Bollywood actress Shilpa Shetty and her son Viaan have created a video, which has been shared on Instagram. The footage offers tips to the bored mothers to keep their kids engaged during the lockdown
Shilpa Shetty, who has self-isolated herself at her home, is having a great time with her husband Raj Kundra, son Viaan and daughter during the lockdown. Besides, the Bollywood actress has also been keeping her followers on social media entertained and enlightened through her videos on various subjects.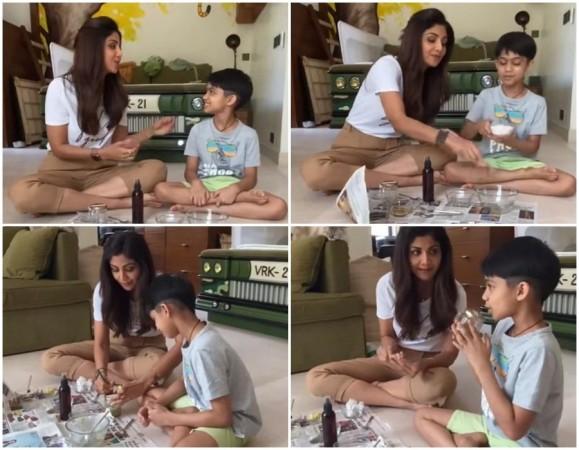 All the children have been staying at home with schools closed down for the last three months due to the lockdown. Managing kids has been the biggest headache for many mothers across India. Along with her son Viaan, Shilpa Shetty made a video to help all the bored moms to keep their kids engaged at home. She is seen guiding her son to make a DIY salt scrub.
Shilpa Shetty captioned the video with, "Making a DIY Salt Scrub with Viaan❤️". The actress also wrote about the ingredients needed for it and how to make it. He is what she wrote on her latest Instagram post.
This is for all those bored children and Moms who need innovative ideas to keeps their kids occupied (I know that feeling) It works better when there is a creative and useful end result.

Viaan wanted to try out a homemade 'Mojito Salt Scrub', or as I prefer calling it, the 'Lemon Mint Salt Scrub' It is as simple to make as the name suggests.

All you need:

1 cup of powdered rock/Epsom salt
1/4cup of almond/coconut oil,
5/8 crushed mint leaves,
1/2 tsp of lemon zest, &
Just a dash of lemon juice - and voila! Just remember to preserve it in an airtight container, away from any kind of moisture.

This scrub can effectively help kids and grownups relax, and drains out all kinds of negativity from the body when you soak your feet in water mixed with the scrub. Do try it out! #DIY #SaltScrub #QuarantineTime #MotherSon #SwasthRahoMastRaho #StayHomeStaySafe