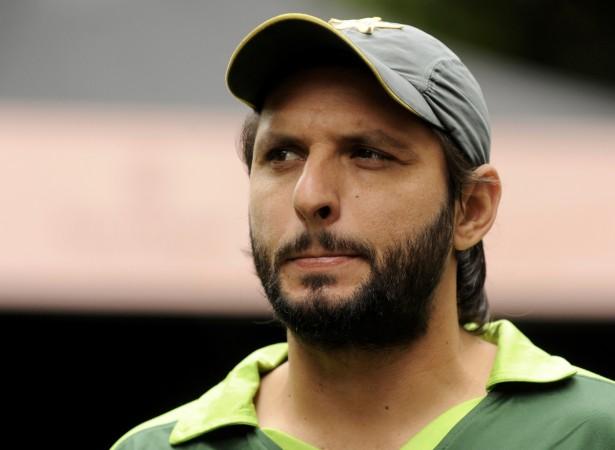 Former Pakistan cricket captain Shahid Afridi has expressed his concern over the "appalling" situation in what he called the "Indian Occupied Kashmir" and has called for international intervention to bring peace in the region.
Afridi's comment comes in the wake of the ongoing anti-militancy operation -- the biggest in recent times-- by Indian forces in the Kashmir Valley. In the operations carried out jointly by the Indian Army, the Jammu and Kashmir Police and the Central Reserve Police Force, 13 militants have reportedly been killed in the past couple of days. As many as three soldiers and four civilians also lost their lives in the process.
It is not the first time that Afridi has publicly spoken about the Kashmir issue. The 38-year-old wants the United Nations to make an effort to stop the "bloodshed" in the Valley. He alleged that the government was trying to "clamp voice of self-determination & independence".
Appalling and worrisome situation ongoing in the Indian Occupied Kashmir.Innocents being shot down by oppressive regime to clamp voice of self determination & independence. Wonder where is the @UN & other int bodies & why aren't they making efforts to stop this bloodshed?

— Shahid Afridi (@SAfridiOfficial) April 3, 2018
The Pakistani cricketer's comment is made a day after Stephane Dujarric, spokesman for the UN Secretary-General Antonio Guterres, confirmed that the latter was "very concerned" about the situation in Jammu and Kashmir.
He also urged all member states to protect the civilians in the region and urged investigation needs to be carried "wherever" there is an abuse of international humanitarian law.
"The Secretary-General is, indeed, very concerned about the situation that we've seen in Jammu and Kashmir. He would like to remind that Member States are responsible under international humanitarian law to protect civilians," Dujarric explained.
"[Need to protect civilians] whether it's in Gaza, whether it's in Jammu and Kashmir, or whether it's in Yemen. It's a basic principle of this organization. Any loss of civilians needs to be investigated wherever they occur," the statement added.