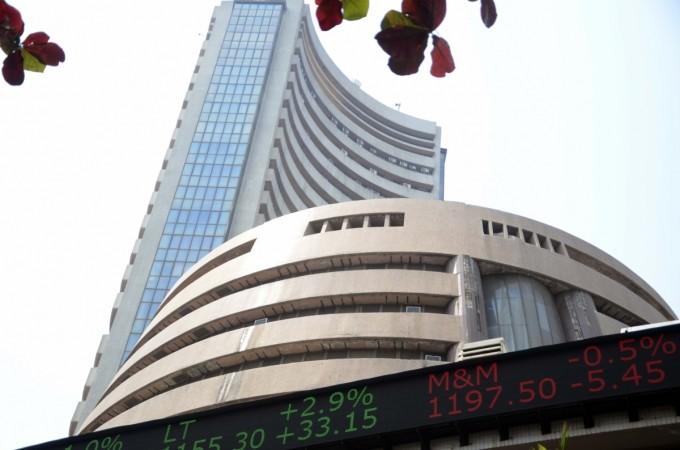 Benchmark stock market indices snapped their winning streak to end trading with minor losses on Monday ahead of Economic Survey 2017 to be tabled on Tuesday. The BSE Sensex closed 33 points lower at 27,850, while the 50-scrip NSE Nifty ended 9 points down at 8,633.
Read: Budget to chart stock market's direction in action-packed week ahead
Bharti Airtel bucked the trend and was the top Sensex gainer to close 7.48 percent higher at 348 amid news of Idea Cellular merging with Vodafone India. Idea Cellular shares gained 27 percent to close at a five-month high of Rs 97 amid huge trading volumes.
Global cues were largely negative in view of US president Donald Trump's stance on immigration, according to Motilal Oswal Securities Ltd.
"European stocks fell on Monday, losing ground for the second session a row, as investors showed concern about the impact of Donald Trump's order to halt some immigration, which sent the U.S. dollar lower and was criticised by companies including Alphabet Inc.'s Google. FTSE, DAX and CAC declined nearly one percent each," the brokerage said in a note.
Other firms that gained sharply on the back of strong December quarter (Q3) results included Bajaj Finance (up 5.99 percent at Rs 1,054) and Bharat Electronics Ltd. (BEL) that closed 2.97 percent higher at Rs 1,586.
Bajaj Finance Q3 net profit rose 36 percent to Rs 555 crore from Rs 408 crore in the corresponding quarter last fiscal; total income increased 31.8 percent to Rs 2,729 crore from Rs 2,070 crore. Net interest income grew 33 percent to Rs 1,749 crore, YoY.
Mortgage lender HDFC reported 11.9 percent rise in standalone net profit to Rs 1,701 crore for Q3 as against Rs 1,520 crore in the year-ago period. Net interest income increased 18 percent to Rs 2,669 crore, while gross NPAs stood at 0.81 percent of total advances. HDFC shares closed 0.13 percent lower at Rs 1,369.
In other news, Shriram EPC informed the BSE that it has allotted 26.5 million equity shares to Punjab National Bank on preferential basis, taking the bank's stake from 3.48 percent to 6.58 percent. Shriram EPC shares closed at Rs 29 on Monday.
Foreign institutional investors (FIIs/FPIs) were net buyers of Indian equities worth Rs 607 crore on Monday, according to provisional data released by the National Stock Exchange (NSE).
The BSE, which closed its recent initial public offering (IPO) with an upbeat response that saw oversubscription of about 51 times, will list on February 3 on the NSE. The BSE, also the oldest stock exchange of Asia, had offered equity shares in the price band of Rs 805-806 per share.
Shares of state-run energy company GAIL (India) closed 0.30 percent at Rs 483.