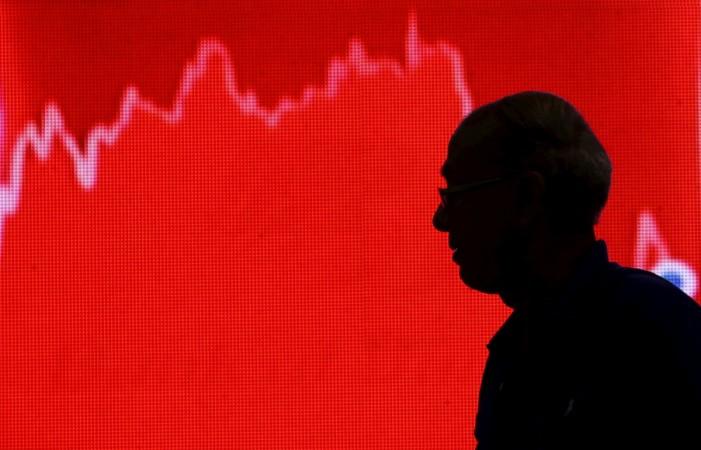 The introduction of the visa legislation — High-Skilled Integrity and Fairness Act of 2017 — that seeks to tighten norms for visa holders with stiffer salary limit at $1,30,000 hit IT stocks hard, with the sectoral index plunging 2.96 percent. Infosys was down 2.01 percent, Wipro lost 1.62 percent, TCS gave up 4.47 percent while Zensar Technologies lost 2.25 percent. Other IT firms such as HCL Tech and Tech Mahindra also lost due to the shocker.
The BSE Sensex closed 194 points lower at 27,655 while the NSE Nifty ended at 8,561, down 71 points. The Economic Survey 2017 tabled by finance minister Arun Jaitley did not impact the markets as was widely believed.
2.03 pm IST: There was no significant impact on the stock markets after the Economic Survey was tabled. In fact, the benchmark indices narrowed the losses, with the BSE Sensex trading at 27,768, down 80 points (from the day's low of 27,633). IT stocks continue to fall responding to fears over impact of stricter norms for H-1B visa beng contemplated by the Donal Trump administration.
12.45 pm IST: The US administration takes a decisive step on the H-1B visa front, bringing in a legislation that aims to double the minimum salary for the visa holders to $1,30,000 per annum.
The legislation (High-Skilled Integrity and Fairness Act of 2017) has been introduced in the US House of Representatives.
"My legislation refocuses the H-1B programme to its original intent - to seek out and find the best and brightest from around the world, and to supplement the US workforce with talented, highly-paid, and highly-skilled workers who help create jobs here in America, not replace them," California Congressman Zoe Lofgren was reported as saying by the PTI.
The minimum salary has remained unchanged at $60,000 since1989.
Another legislation is also on the cards, by Senator Sherrod Brown, to plug the loopholes in the the H-1B and L-1 visa norms.
12.20 pm IST: Markets deep in the red, BSE Sensex down 185 points at 27,665 while NSE Nifty was trading at 74 points lower at 8,558. TCS, GAIL (India), Infosys, Wipro, Adani Ports top losers.
In other news, there is a possibility of H-1B visa curbs that will hurt Indian technology companies, as part of the new set of initiatives being contemplated by the Donald Trump administration.
The US H1-B visa is a non-immigrant visa, which allows firms to hire foreign workers in specialised occupations. The H-1B and L1 work visas are majorly used by Indian IT professionals. Currently, the cap on H1B visas stands at 65,000, out of which 25,000-35,000 are issued to Indian nationals.
GAIL was trading at Rs 468, down 3.25 percent, at around 12.25 pm. The integrated energy company rewarded shareholders with a bonus issue of 1:3 (one equity share for every three shares held). The company also declared an interim dividend of 85 percent, in addition to a fund-raising plan of up to Rs 1,500 crore.
10.25 am IST: Idea Cellular was up 10.97 percent at Rs 109.25 on hopes of the company emerging if the proposed merger with Vodafone goes through. The stock is now close to its 52-week high of Rs 128.
9.45 am IST: Markets extend losses; Sensex down 139 points to 27,710; top losers are Power Grid, Tata Steel, ITC. Nifty down 46 points to 8,587.
9.20 am IST: Markets open on a weak note tracking Asian equities and ahead of the presentation of the Economic Survey 2017. The BSE Sensex was down 97 points at 27,752 while the NSE Nifty opened 22 points lower at 8,610.
Top Sensex and Nifty losers are Adani Ports, Sun Pharma, Tata Steel and Power Grid Corporation (Sensex) and Infosys, ICICI Bank and Tata Motors (Nifty).
ONGC was trading with gains of 3.64 percent at Rs 209 on the BSE.
8.20 am IST: Asian stock markets opened on a weak note on Tuesday as the new American dispensation's protectionist, anti-immigration stance is not going down well with investors. The Nikkei was down 1.28 percent at 19,120, Hang Seng was trading 13 points lower at 23,361 while the Straits Times was trading with losses of almost 1 percent at 3,3034.
This could lead to a weak opening for Indian stock markets also notwithstanding Q3 earnings of most companies have been strong, allaying fears of demonetisation.
"His stance is really inward-looking, making investors nervous about his 'moderateness'," Masahiro Ichikawa, senior strategist at Sumitomo Mitsui Asset Management, told Reuters.
US stock markets corrected sharply over president Donald Trump's orders on immigrants that are being perceived by investors as negative. The Dow Jones Industrial Average (DJIA) plunged 122 points or 0.61 percent to 19,971 while the Nasdaq closed 0.83 percent (47 points) down at 5,614.
"Investors focused on the pro-growth of (Trump's) proposals and not those detrimental to economic activity, like protectionism," Reuters quoted Peter Cardillo, chief market economist at First Standard Financial in New York, as saying.
An executive order signed last Friday by president Trump banned immigration from seven Muslim-majority countries — Syria, Sudan, Somalia, Iraq, Iran, Libya and Yemen.
Tech Mahindra reported upbeat Q3 results on Monday. Revenues rose 4.1 percent QoQ to $1,176 million from $1,072 million in the second quarter. Net profit increased by 31 percent QoQ to Rs 844.7 crore from Rs 643 crore in Q2 while on a YoY basis, the growth was 11.9 percent.
"We factor Q3FY17 beat and fine tune FY17/18 US$ revenue by 0.9%/0.4% and EPS by 3.4%/1.7%. We now forecast revenue (in US$) / EPS CAGR of 8.4%/4.7% over FY16-18E. With an 8% upside we upgrade the stock ACCUMULATE with new TP of Rs510 based on PER of 13x FY18E," IDBI Capital Markets & Securities said in a note.
The Tech Mahindra closed at Rs 471.70 on Monday on the BSE.
Stock markets would take cues from the Economic Survey 2017 to be tabled on Tuesday, a day before the Modi government presents its fourth budget (Budget 2017). Commentary on demonetisation, GDP estimates for FY2017 and FY2018 in the wake of note ban and views on universal basic income, if any, would be key factors that would decide market trends.
Read: Sensex, Nifty snap winning streak ahead of Economic Survey 2017
Besides, markets would also be interested to know the government's assessment of fiscal dividend post note ban and comments on digital economy.
On Monday, benchmark stock market indices snapped their winning streak to end trading with minor losses. The BSE Sensex closed 33 points lower at 27,850, while the 50-scrip NSE Nifty ended 9 points down at 8,633.
Bharti Airtel bucked the trend and was the top Sensex gainer to close 7.48 percent higher at 348 amid news of Idea Cellular merging with Vodafone India. Idea Cellular shares gained 27 percent to close at a five-month high of Rs 97 amid huge trading volumes.
Global cues were largely negative in view of US president Donald Trump's stance on immigration, according to Motilal Oswal Securities Ltd.
"European stocks fell on Monday, losing ground for the second session a row, as investors showed concern about the impact of Donald Trump's order to halt some immigration, which sent the U.S. dollar lower and was criticised by companies including Alphabet Inc.'s Google. FTSE, DAX and CAC declined nearly one percent each," the brokerage said in a note.