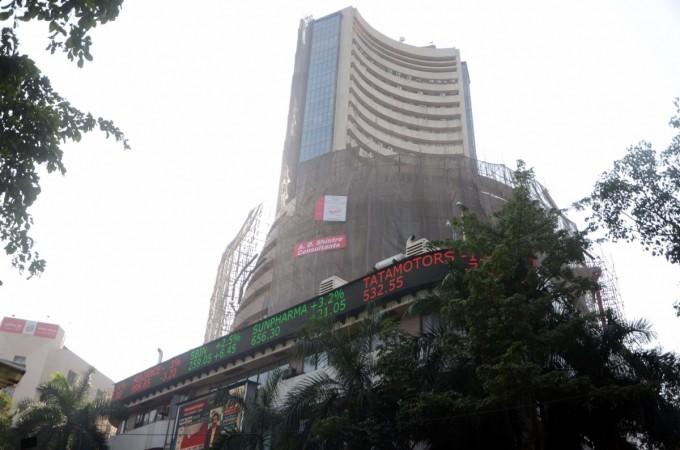 Update
The BSE Sensex ended 332 points higher at 27,708 while the NSE Nifty gained 127 points, or 1.50 percent, to close at 8,603. Top Sensex gainers were HDFC, Adani Ports, Hero Motocorp, Axis Bank and Coal India. Maruti Suzuki declared its Q3 results on Wednesday. Robust Q3 earnings by HDFC Bank on Tuesday and Kotak Mahindra Bank on Wednesday are being seen as indication that the fallout of demonetisation will be less than expected, leading to a rally on stock markets.
Original story
Benchmark indices consolidated their Tuesday (January 24) gains when markets opened on Wednesday (Jan 25), the day of F&O contracts expiry for January, since Thursday is a trading holiday on account of Republic Day. The BSE initial public offering (IPO) was oversubsribed by 1.55 times at the end of second day of the public issue, with retail investor portion witnessing 2.73 times oversubscription.
Read: BSE IPO: All you need to know
The BSE Sensex was up 136 points at 27,511 about 11.43 am led by HDFC and Axis Bank while the NSE Nifty was trading 44 points higher at 8,520. HDFC and Axis Bank were leading the Sensex rally.
India slips in corruption index
In a related news, India slipped three places below to 79 in the corruption perception index (CPI) for 2016 released by Transparency International on Wednesday, not far from China and Brazil. Pakistan has been ranked at 116, along with Tanzania.
In his November 8 speech, Prime Minister Narendra Modi had referred to India's low ranking (76 in 2015) before announcing the decision to demonetise Rs 500 and Rs 1,000 currency notes followed by countrywide raids on black-money hoarders and those suspected of having unaccounted income.
"In too many countries, people are deprived of their most basic needs and go to bed hungry every night because of corruption, while the powerful and corrupt enjoy lavish lifestyles with impunity."
José Ugaz, Chair of Transparency International, said in a statement.
Wipro to declare Dec Q3 results
Wipro will be declaring its December quarter (Q3) results later in the day. The Bengaluru-based IT software services exporter informed the BSE on Tuesday that T K Kurien, executive vice-chairman and member of the company's board will retire with effect from January 31, 2017. The Wipro stock was trading at Rs 478, down 0.52 per cent from its previous close.
Read: Tech Mahindra, HCL Tech likely to outperform Infosys, TCS and Wipro in revenue growth
PNB Housing Finance reports 53% rise
PNB Housing Finance reported 53 per cent rise in net profit to Rs 137.80 crore for the December quarter (Q3). Net interest income grew 40 per cent to Rs 264 crore. Shares of the home loan company were trading at Rs 890 apiece, up 3.74 per cent from their previous close.
Multiplex operator PVR was subdued on the markets despite the buzz on Shah Rukh Khan's Raees and Hrithik Roshan's Kaabil releasing simultaneously on Wednesday. The share price of PVR was trading flat at Rs 1,310.