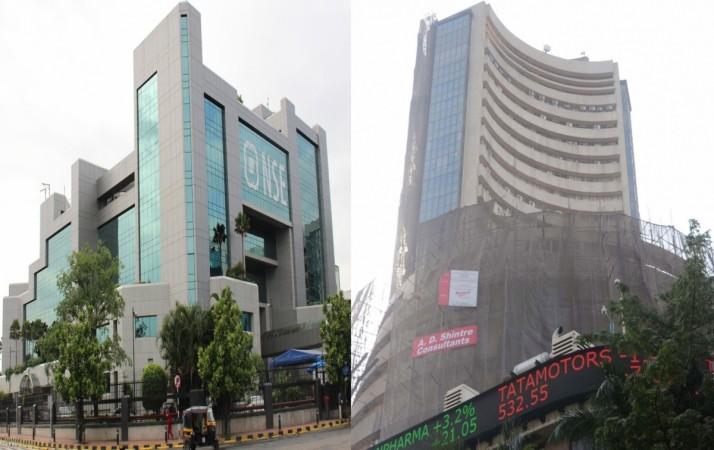 Indian stock markets had a bad opening on Tuesday after Monday holiday, with both the benchmark indices closing with losses of 2 percent over persisting concerns and the impact of the Modi government's demonetisation drive on the economy. The BSE Sensex ended at 26,304, down 514 points, or 1.92 percent, while the NSE Nifty closed 198 points, lower, or 2.39 percent, at 8,098.
Top Sensex losers included Tata Motors (9.88 percent, to Rs 457), Tata Steel (7.88 percent, to Rs 393), Asian Paints (7.41 percent, to Rs 892) and Maruti Suzuki (5.71 percent, to Rs 4,842).
Top index gainers were SBI (1.91 percent), Wipro and Dr Reddy's Labs.
The losing streak is likely to continue on Wednesday even as the winter session of Parliament is likely to begin on a confrontational note with the opposition firm on cornering the BJP-led NDA government over the decision to demonetise Rs 500 and Rs 1,000 currency notes.
Foreign institutional investors (FIIs) were net sellers of Indian equities worth Rs 2,354 crore on Tuesday, according to provisional data published by the NSE.
"The pull out by FIIs to the tune of over 7000 crores in the last few days has exacerbated the volatility, and Indian markets are less likely to receive much respite, as Parliament session is likely to see a rocky start tomorrow," Anand James, Chief Market Strategist, Geojit BNP Paribas Financial Services, said in a note.
The twin factors of a short-term impact on the economy following the demonetisation exercise and US president-elect Donal Trump's stance on fiscal expansion that could eventually lead to an interest rate hike by the US Federal Reserve would dampen investor sentiments for some time.
The Indian rupee closed 50 paise lower at 67.75 to the US dollar.
Retail inflation falls
The consumer price inflation (retail inflation) dropped to a 14-month low of 4.20 percent for October, according to provisional data released by the government on Tuesday. Food price inflation eased to 3.32 percent as against 3.96 percent (final) in the previous month.