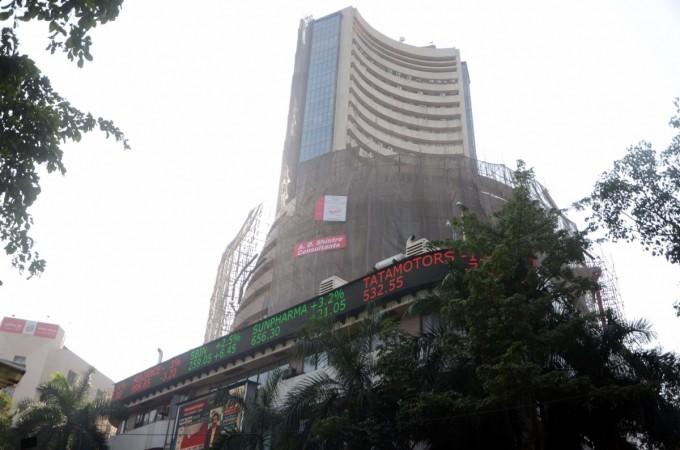 At around 12 noon, the BSE Sensex had slid further and was trading with losses of 247 points at 25,793, while the NSE Nifty was down 78 points, or 0.98 percent, at 7,906.
The 30-scrip BSE Sensex is now close to its January 4, 2016 level of 25,623.
Earlier, the last trading week of calendar year 2017 opened on a weak note. The BSE Sensex was down almost 150 points at 25,893 at around 9.22 am while the NSE Nifty was trading at 7,948, a loss of 37 points.
Top Sensex losers were Axis Bank (down 1.87 percent to Rs 430), Cipla (down 2.37 percent to Rs 568), Adani Ports and SBI (down 1.2 percent to Rs 246).
Pharma company Cipla received final approval from the UK Medicines and Healthcare products Regulatory Agency for its Salmeterol.
"Sereflo™, 25 mcg/125 mcg & 25 mcg/250 mcg are generic equivalent to GlaxoSmithKline's Seretide® Inhalers and are indicated for Asthma treatment," Cipla said in a regulatory filing last Friday. The product will be launched in association with a partner in the near future.
"Seretide® Inhaler, for the aforementioned strengths, had UK sales of approximately $278 million for the 12 month period ending June 2016, according to IMS Health," the company added in its filing to the BSE.
State Bank of India (SBI) is on course to divest a part of its stake in its life insurance arm, SBI Life Insurance, next fiscal. "SBI Life was valued at Rs 460 billion (Rs 46,000 crore) during a recent stake sale in December when SBI announced it would divest 3.9 percent stake in the firm for Rs18 billion," brokerage Nirmal Bang said in its Monday morning note.
Maruti Suzuki India Ltd. (MSIL) and ONGC are likely to buzz for sales forecast and acquisition, respectively.
In other news, Amazon's India revenues doubled to Rs 2,275 crore for the financial year 2015-16 after the company spent a lot on marketing, discounts and investments in technology and infrastructure, Nirmal Bang said.
Cash-rich companies
Even as cash becomes an increasingly avoidable mode of transaction, the country's top five auto companies, including Maruti Suzuki, Bajaj Auto and Hero MotoCorp, have cash reserves of Rs 46,000 crore, thanks to increasing profitability, according to Nirmal Bang.