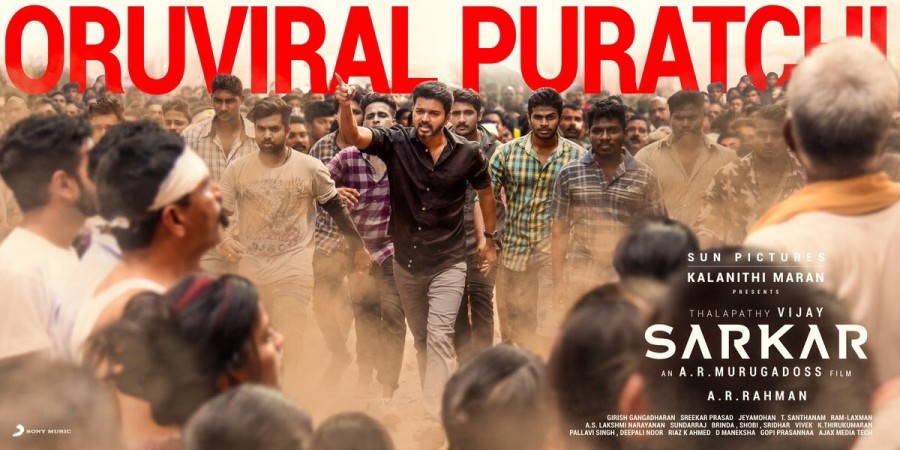 For the first time, an audio launch of Vijay's film produced by Sun Pictures was aired live on Sun TV. Adapting to the changing times, India's leading GEC (General Entertainment Channel) telecast the audio launch function of AR Murugadoss' Sarkar. [Crawl down for the Pictures]
A grand event was organised by the makers at a private college on the outskirts of Chennai. The audio was launched in the presence of the cast-crew along with limited fanfare. Vijay at Sarkar audio launch.
What Celebs said? Click Here to Listen to the Songs
Varalaxmi: Sarkar has fulfilled four of my dreams - working with Thalapathy, AR Murugadoss, AR Rahman and Sun Pictures.I am Thalapathy 'Veriyan', I get furious if heard people talking bad about him. I got into fight in the US when someone spoke bad about him.
Keerthy Suresh: I am a big fan of Vijay for his kind heartedness and down-to-earth attitude.
Kalanidhi Maran: When I first heard the Simtaangaran song, I did not get a single word of it. Once again before the release AR Murugadoss made me listen, but the result was the same. But I am sure it will take the fans by storm when heard in theatres.
The two most humble souls in Kollywood are Rajinikanth and Vijay.
AR Murugadoss is a producer's delight as he finished the project on time despite the delay in the shoot due to Kollywood strike.
AR Murugadoss: Thalapathy surprised me again after Thuppakki and Kaththi. His real life character has close resemblances with his reel character. Making a movie like Sarkar can only happen through an actor like Vijay.
The dialogues should come from the bottom of the heart and not just from the mouth alone. I could understand the pain when he says oneliners. He is like a weapon for me and a film from the heart.
#SarkarAudioLaunch

If the people at the top level in a state are correct, then the others will follow in the right way. But here, even a birth and death certificate needs money. Thalaivane padu mosama irundha mudinjirchu kadhai - #Thalapathy #Vijay.

— Sidhu (@sidhuwrites) October 2, 2018
#SarkarAudioLaunch

Padathula mudhalamaicharaa nadikkala, nejathula mudhalamaichara aana nadikka maaten - #Thalapathy #Vijay vera level speech today ?

— Sidhu (@sidhuwrites) October 2, 2018
#SarkarAudioLaunch #Thalapathy #Vijay nicely making use of a stand-up mic, exhibiting his style in full force. He's making an effort to mention every member in the team. The noise is so loud that his speech is almost inaudible!

— Sidhu (@sidhuwrites) October 2, 2018
#SarkarAudioLaunch

Thalapathy #Vijay rocking with his wordplay here. Calls Kalanidhi Maaran as Kalai + Nidhi.

'After two schedules only I came to know about @varusarath's inclusion. Vara lakshmi ah vendaamnu solla koodathu' ??

— Sidhu (@sidhuwrites) October 2, 2018
#SarkarAudioLaunch #Mersal la konjam arasiyal irundhuchu, #Sarkar la arasiyala vechu mersal panirkaaru - #Thalapathy #Vijay on #ARMurugadoss.

— Sidhu (@sidhuwrites) October 2, 2018
Earlier Story:
Generally, the cinema-related events were recorded and aired on later dates in Kollywood. Considering the craze around the movie, the makers have decided to air the audio launch live.
And the netizens can watch the event live on the below links:
https://www.sunnxt.com/live/
http://www.sunpictures.in/
Mobile users with an internet connection can catch the action live if they have subscriptions to satellite television providers like Tatasky. Likewise, the audience can watch Sarkar audio launch from their phones by downloading respective apps from their mobile network operators.
For example, if you are using Jio service, download Jio TV to watch the event live.
Coming back to the audio launch function, AR Rahman will be performing live. This is his second such event in the recent past after having entertained his fans at the audio launch function of Chekka Chivantha Vaanam.
The movie has five songs. Bamba Bakya, Vipin Aneja, Aparna Narayan, Srinidhi Venkatesh, Mohit Chauhan, Sid Sriram, Jonita Gandhi, Naku Abhyankar and Blaaze have lent their voices for the songs. AR Rahman himself has sung a song (Oruviral Puratchi). All the numbers have been written by Vivek.
Kollywood's Most expected Combo for this Diwali, @ARMurugadoss @actorvijay How many of you are waiting for the Celebration?#SarkarAudioLaunch #SarkarAudioLaunchOnSunTV pic.twitter.com/n1iugAFB5q

— Sun TV (@SunTV) October 2, 2018
The fiery @ladykashonline and the show stealer @rblaaze has set the stage on fire!#SarkarAudioLaunch #SarkarAudioLaunchOnSunTV #Sarkarkondattam pic.twitter.com/k8SosDVmVa — Sun TV (@SunTV) October 2, 2018
அனைத்து தளபதி ரசிகர்களுக்கும் என்னுடைய நன்றி,
நான் ஒரு தளபதி வெறியை!
- @varusarath#SarkarAudioLaunch #SarkarAudioLaunchOnSunTV pic.twitter.com/wAGgh606cp

— Sun TV (@SunTV) October 2, 2018
Simtaangaranin Simtaangari! @KeerthyOfficial #SarkarAudioLaunch #SarkarAudioLaunchOnSunTV pic.twitter.com/syVbEBeqP9 — Sun TV (@SunTV) October 2, 2018
#IdhuUngalinSarkar Moment by @arrahman @ARMurugadoss #SarkarAudioLaunch #SarkarAudioLaunchOnSunTV pic.twitter.com/2xp39bzapP

— Sun TV (@SunTV) October 2, 2018
#IdhuUngalinSarkar Moment by @actorvijay 's Father and Mother#SarkarAudioLaunch #SarkarAudioLaunchOnSunTV pic.twitter.com/fdV9C10lW0 — Sun TV (@SunTV) October 2, 2018
. @sunpictures COO @sembian_ says #Diwali2018 will be #SarkarDiwali #SarkarAudioLaunch pic.twitter.com/0ScKXvexrD

— Ramesh Bala (@rameshlaus) October 2, 2018