With just hours left before the Samsung's Galaxy Unpacked 2017 event, many fans will be curious to know what new feature upgrades would the Galaxy S8 series will have over the 2016's Galaxy S7 series.
To help provide better perspective, we have leafed through multiple reliable sources and put up a list of key features, most expected price range and also when the new Galaxy S8 will hit the stores. Here it goes.
Also read: Apple iPhone security compromised by Turkish Crime Family? Here's how to protect your iCloud from hackers
Samsung Galaxy S8 design language:
As per some recently leaked images, Samsung's Galaxy S7 successor is expected in two variants—generic Galaxy S8 with 5.8-inch display and another Galaxy S8+ with 6.2-inch screen.
Both the models will come with super AMOLED display with QHD+ resolution (2960x1440p) having the Corning Gorilla Glass.
Samsung Galaxy S8: 148.9 x 68.1 x 8.0mm and 151g
Samsung Galaxy S8+: no data available yet
Though they differ in dimension, both the models will have the same design language. The Galaxy S8 series is said to come with 18.5:9 screen aspect ratio that almost entirely fills the front panel of the smartphone.
To make more space for the display, Samsung has removed the physical home button at the base, which also used to house the fingerprint sensor in the Samsung S7 series. In the new model, the fingerprint sensor has been relocated to the back, right beside the camera module on the top.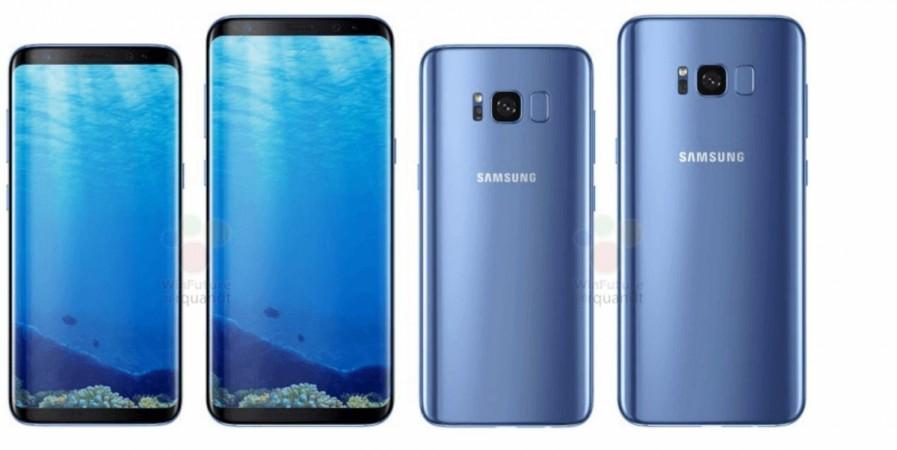 Samsung Galaxy S8 CPU configuration:
Depending on the region of sale, Samsung Galaxy S8 will come in two sub-variants based on CPUs. It is widely reported that the new phones heading to the US, China and select developed markets will have Qualcomm's Snapdragon 835 quad-core System-on-Chip (SoC). Whereas, the ones sold in Europe, India and rest of the regions will have Samsung's own Exynos 9985 series processor.
As far as the memory is concerned, they will have same 4GB RAM and 64GB storage.
However, as per rumour running wild on Internet, Samsung might introduce limited edition Galaxy S8 series with 6GB RAM+128GB inbuilt storage.
Samsung Galaxy S8 Battery:
Samsung's Galaxy S8 and the S8+ will have 3,000mAh and 3,500mAh cell, respectively. Like the Galaxy S7 series, both the new models are expected to support the wireless-charging technology and fast powering capability.
Samsung Galaxy S8 Camera:
Both the Samsung Galaxy S8 series mobile phones will have same set of camera hardware. On the back, they are expected to boast feature-rich 12MP camera with dual-pixel autofocus, OIS (Optical Image Stabilisation), laser autofocus, f/1.7 aperture and 4K video-recording ability.
On the front, they will come endowed with an 8MP camera with wide FoV (Field of View) lens, autofocus and 4K video-recording capability.
Samsung Galaxy S8 value-added features:
Iris scanner: Samsung had already showcased its Iris scanner capability in the ill-fated Galaxy Note7 and is all but confirmed to feature in the upcoming Galaxy S8 series. Iris Recognition feature is said to be a more advanced and near-foolproof security system, as it involves camera technology with subtle infrared illuminations to capture the detailed nerve pattern on the iris. Using this information, digital impressions are created by mathematical and statistical algorithm to create an accurate profile. This new-age biometric technology is immune to identity thefts, unlike the finger-print scanner that can be bypassed with a fake thumb print.
Bixby digital assistant: Earlier in the month, Samsung confirmed that the Galaxy S8 series will come with Bixby digital assistant having dedicated button on the side to easy access. Bixby is said to be capable of integrating all the information available online, instead of inclining on some select apps installed in the phone for a particular service. It can also intuitively improve itself by learning the users' preferences over time.
Samsung Galaxy S8 Price details:
As per the recently leaked Samsung press note, the Galaxy S8 and the S8 Plus is slated to be priced €799 (approx. $864/Rs. 56,455) and €899 (approx. $972/Rs. 63,521), respectively. They will be made available in black, blue, gold, orchid gray and silver colours.
Samsung Galaxy S8 Accessories:
Besides the new Galaxy S8 series, Samsung is said to release companion accessories, including Clearview Standing Cover €59.99 (around $65/ Rs 4,240), an LED View Cover for €59.99 (around $65/ Rs 4,240), Samsung Keyboard Cover priced at € 59.99 (approx. $65/ Rs 4,240), Samsung Alcantara Cover for €44.99 (approx. $49/Rs 3,179), Samsung Silicone Cover for €29.99 (approx. $33/Rs 2,119), Samsung Clear Cover for €19.99 (approx. $22/Rs 1,413), Samsung 2-Pieces Cover priced at €19.99 (approx. $22/Rs 1,413), Samsung Screen Protector for €12.99 (approx. $14/Rs 918), Samsung Wireless Charger Convertible for €79.99 Euro (approx. $87/Rs 5,653) and Samsung Battery Pack (Fast Charging) for €69.99 (approx. $76/Rs 4,945).
In addition to that, the company is planning to introduce Samsung Desktop eXperience aka DeX Station similar Microsoft's Continuum feature. Users, with the help of the display dock, can convert the phone into a mini-computer via DeX. It is a new, adaptive user experience to be offered in Windows 10-based PCs that optimises the look and behaviour of apps and the Windows shell as per usage preferences of the customer to provide a PC-like experience. It is said to be sold separately for €149.99 (around $163/Rs. 10,598).
Samsung Galaxu S8 release details:
As per leaked Target flyer, Samsung Galaxy S8 will be put up for pre-order on April 2. Later, it will be made available in stores on April 21.
Read more: Samsung Galaxy S8: Target tipped to offer enticing gifts with Galaxy S7 successor in US; pre-order details revealed
Most expected specifications of the Galaxy S8 and the Galaxy S8 Plus:
Model
Samsung Galaxy S8
Samsung Galaxy S8 Plus
Display
5.8-inch WQHD super AMOLED screen with 2560x2400p resolution + 3D curved glass
6.2-inch WQHD super AMOLED screen with 2560x2400p resolution + 3D curved glass
OS
Android 7.1 Nougat with Samsung Bixby digital assistant
Android 7.1 Nougat with Samsung Bixby digital assistant
Processor
10nm class 64-bit Samsung Exynos 9 series 8895 octa-core CPU/ Qualcomm Snapdragon 835 quad-core (based on region of sale)
10nm class 64-bit Samsung Exynos 9 series 8895 octa-core CPU/ Qualcomm Snapdragon 835 quad-core (based on region of sale)
RAM
4GB/6GB (only in China & South Korea)
4GB/6GB (only in China & South Korea)
Storage
64GB
64GB
Camera

Main: 12MP camera with dual-pixel autofocus, OIS (Optical Image Stabilisation), laser autofocus, f/1.7 aperture, 4K video recording
Front :8MP camera with autofocus, 4K video recording, wide FoV (Field of View) lens

Main: 12MP camera with dual-pixel autofocus, OIS (Optical Image Stabilisation), laser autofocus, f/1.7 aperture, 4K video recording
Front :8MP camera with autofocus, 4K video recording, wide FoV (Field of View) lens

Battery
3,000mAh with fast and wireless charging ability
3,500mAh with fast and wireless charging ability
Network
4G-LTE
4G-LTE
Add-ons
Single/Dual-SIM (based on region of sale), Bluetooth 4.2 (with apt-X & LE), Wi-Fi (802.11 b/g/n/ac; dual-band: 2.4GHz & 5GHz), NFC (Near Field Communication), heart rate sensor, Type C USB port

Sensors: sensors --Proximity sensor, Ambient Light Sensor (ALS), IR-LED transmitter, receiver for iris recognition, and a network receiver into the phone.

Single/Dual-SIM (based on region of sale), Bluetooth 4.2 (with apt-X & LE), Wi-Fi (802.11 b/g/n/ac; dual-band: 2.4GHz & 5GHz), NFC (Near Field Communication), heart rate sensor, Type C USB port

Sensors: sensors --Proximity sensor, Ambient Light Sensor (ALS), IR-LED transmitter, receiver for iris recognition, and a network receiver into the phone.

Glass-based cases (colours)
Black, Blue, Gold, Orchid Gray, and Silver
Black, Blue, Gold, Orchid Gray, and Silver
Dimensions
148.9 x 68.1 x 8.0mm
-----
Weight
151g
-----
Price
€799 (approx. $864/Rs. 56,455)
€899 (approx. $972/Rs. 63,521)