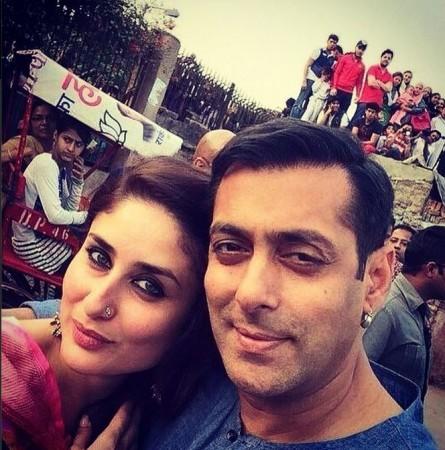 The shooting of Salman Khan's Eid release "Bajrangi Bhaijaan" is almost complete and now fans are waiting for the trailer of the film.
Kabir Khan, the director of the film, said that the Rajasthan scheduled of the film is over and also the team finished 70 percent of the shooting.
"#BajrangiBhaijaan We had an awesome schedule in Rajasthan... 70 per cent of the film is now complete," he tweeted on 20 February.
The shooting of the action movie started in November last year in New Delhi. After finishing Delhi scheduled, the team moved to several other places including Karjat, Mandwa and Jaisalmer among others to complete the shooting of the film.
The director has been posting about the shooting details of the film on his Twitter handle. Earlier in February, he tweeted about completing Jaisalmer shoot.
''Touch down! Back from Jaisalmer with @BeingSalmanKhan... End of a long schedule #BajrangiBhaijaan," he wrote on Twitter.
"Mission accomplished.spaceship is cming back @minimathur: Feels lik @kabirkhankk left on a spaceship 67 years ago shooting," he added.
The Eid release also features Kareena Kapoor Khan and Nawazuddin Siddiqui in key roles.
Meanwhile, fans have been waiting for the release of first look of the film. While there has been no official news as to when the trailer will be released, fans are speculating that it might release in May.
Bajrangi Bhaijaan trailer releasing with Hero The Film. HAHK Biggest Blockbuster EVER

— Bajrangi Rohan (@BeingRohan_) February 21, 2015
Bajrangi BhaiJaan Trailer Mangta Mann ??!

— ѕαмєєя ѕнαιкн (@sameer_skfan) February 21, 2015
#BajrangiBhaijaan just wait for bhai movie trailer

— A V (@vadherajay1990) February 19, 2015
#BajrangiBhaijaan 70% shooting completed. Wow!! First Look poster may release in mid June. Trailer by June End. @KabirKhankk

— Rahul Raut (@Rahulrautwrites) February 21, 2015
Excited For Bajrangi Bhaijaan 1st Look, Teaser, Trailer, 1st Song & Also Excited For Movie

— कट्टर सलमान फैन (@HereForSalman) January 6, 2015
@ikareenaonline #askkkk when does bajrangi bhaijaan trailer come out?

— Ayesha Akhter (@beingayesha0322) February 22, 2015
@BeingSalmanKhan #BajrangiBhaijaan has 4 Songs Music is composed by Super Talented @ipritamofficial. Trailer will release in May 2015.

— Too Much Fun (@depala11) February 23, 2015
If #PRDP teaser/trailer come with #BajrangiBhaijaan on EID then it will be the double Dhamaka..Hope it will happen!!

— Lokesh Goel (@iLokeshGoel) February 23, 2015