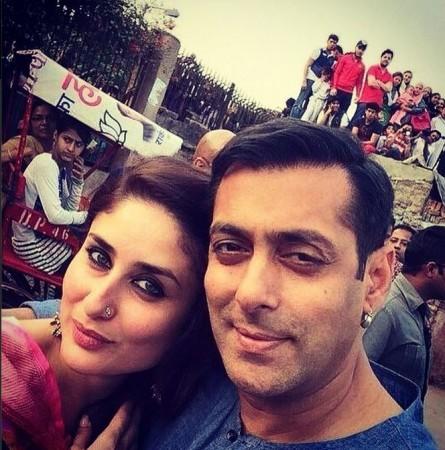 Salman Khan's Eid release "Bajrangi Bhaijaan" has been in news for all sorts of reasons, and the latest one is about the lead actress Kareena Kapoor Khan's role.
According to reports, Kareena is just doing a cameo in the film and will be seen for not more than 30 minutes.
Kareena will be seen only in the beginning and climax scene of the film, DNA reported.
"Salman plays the man who finds the little girl on this side of the border and takes it on himself to re-unite her with parents and family in Pakistan," a source told DNA.
"Salman's character Bajrangi Bhaijaan becomes as attached to the little girl as Salman himself. He's very fond of children and has often spoken of how much he'd like to have his own children. He dotes on his nephews and friends' kids. Establishing a firm bonding with the little girl who plays the Pakistani drifter was child's play for Salman.... pun intended!"
However, the director of the film Kabir has rubbished all the rumours. Kabir's fans asked him on Twitter about Kareena's role in the film, to which he replied saying "all rumours are rubbish."
"@Xtrem_Beboholic: Sir so many rumours abt bebo's role. " All rumours r rubbish.. Kareena has a great role in #BajrangiBhaijaan," Kabir retweeted.
""@manishtamancha: im not gonna ask u abt d rumours abt BEBOs role coz i hve complete faith dat u always portray strong women" Correct."
Now since Kabir has clarified that Kareena has a great role in the film, her fans can rejoice. After "Bodyguard", the actress is sharing screen space with Salman in the upcoming film.
"Bajrangi Bhaijaan" is slated for Eid release, which is Salman's lucky. The film will hit screens on 17 July.