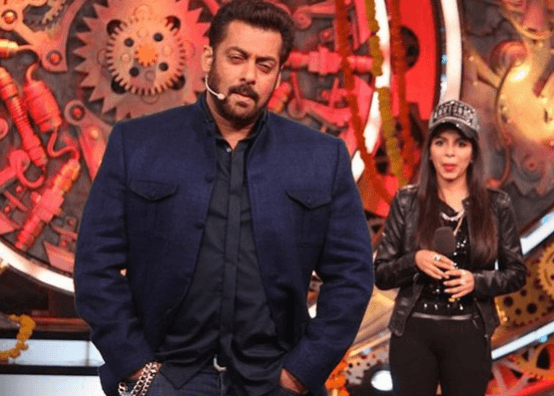 Salman Khan tried to test his potential as a lyricist by writing the song Selfish for Race 3. However, it looks like the actor failed miserably in his endeavour as he is being compared with Dhinchak Pooja.
The song Selfish was released a few days ago, and soon, a series of memes and jokes started flooding social media. While the lyrics of the track received maximum bashing, Iulia Vantur's voice too seemed to have irked many.
One of the funniest jokes involves Salman and Dhinchak Pooja. The self-proclaimed rapper-singer is massively trolled every time she comes up with a new song. Even Salman had made fun of Dhinchak's lyrics during her stay at Bigg Boss house.
However, now many have started trolling Salman for his Selfish song lyrics. Many social media users stated that with the kind of lyrics he wrote for the Race 3 song, Salman should not ridicule Dhinchak since according to them, he is as bad as she is, and for some, even worse than her.
There are a series of tweets making fun of the Selfish song and Salman. Apart from Dhinchak, the actor is also being compared with other highly trolled "artists" like Taher Shah and Om Prakash Mishra.
Well, Salman might not want to step into the songwriting zone anymore after the kind of response Selfish received.
Check how trolls compared Salman with Dhinchak for the song.
Please don't write lyrics after this..you made fun of Dhinchak Pooja's song on Bigg Boss, turns out you are as good as her. You are only good at shooting (films, what did you think though? Lol). Anyway, please don't do that ever again. Please. #Race3 #Race3thisEid #Selfish

— Harnoor Singh (@hrnurtweets) May 28, 2018
Bhai aapka fan hu...pr ye lyrics jo aapne likhe hai...gadar...Big boss k last season me @DhinchakPooja se itna inspire ho gye the?...dobara aisa qahar hm pr na barsaiyega...mai bhi yha thoda #Selfish Ho rh Hu??

— MALAY PANDEY (@malay_pandey95) May 27, 2018
Earlier, Salman had revealed that there were no plans for him to write the song. According to him, he had casually written some lines, which music director Abhishek Mishra found so amazing that he immediately decided to make it a song for Race 3.
"While discussing the creative for the song, I penned down a few thoughts on paper in sync with the plot of the film, which is about the selfishness within the family. When the music director Vishal Mishra heard it, he got extremely excited and said he will come back with a tune for the same. I said, 'But this is a part of a conversation and not lyrics'. However, he insisted to use the thoughts as it is for the song. Everyone loved the thoughts and wanted it to be used for the song," Bollywoodlife had quoted Salman as saying in a statement.
Race 3 has been a butt of jokes for various reasons. First, the trailer of the film was trolled for its cheesy dialogues like "our business is our business, none of your business", and then the Selfish song received attention for all the wrong reasons.