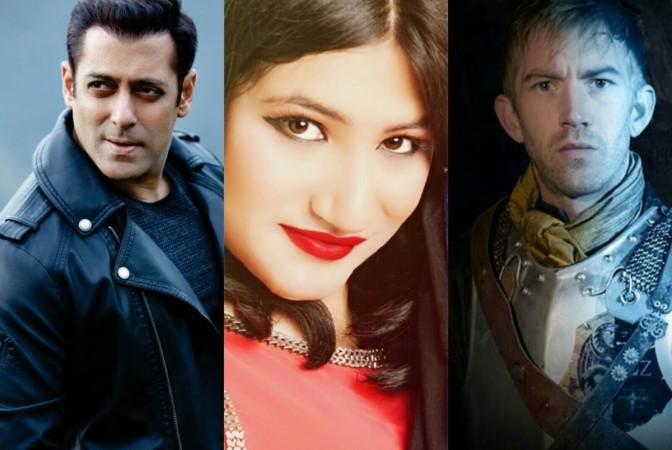 Mahika Sharma seems to be in awe of adult film star Danny D and Salman Khan. The TV actress, who is set to make her Bollywood debut along with Danny in a movie titled The Modern Culture, said that the porn star and superstar Salman can become best friends as they both "have a big one" and are "every girls' favourite".
"Salman and Danny may become best friends, as I feel both have got a big one and they are every girl's favourite. Salman is my favourite Indian actor. I love his helping nature. He has been next to God for most of the Indians. And I respect it. Even after being a richy rich, he is poor in terms of money compared to his heart. He is actually rich from his heart," Mahika told International Business Times India when asked if she thinks Danny might become anyone's best friend in Bollywood.
Like most actresses, Mahika too expressed her desire to work with Salman someday. "He is ruling hearts of females generation after generation. Who will not wish to work with him? I really want to be one in his list," she said.
Expressing discontent at the ban on Pakistani actors in India, Mahika said that talent should not be restricted to boundaries, and she hopes that the same does not get applied to British porn stars like Danny.
"I feel Bollywood is nothing about Indian or non-Indo artists. It's all about talent and that's how it should be. I agree with Ekta Kapoor who said that it's all about entertainment, entertainment and entertainment. Pakistan's talent is wonderful and entertaining. But the ban on them shows how insecure we are about having them in our entertainment industry. I feel worried thinking if the British adult film actors also get banned from our Bollywood like they banned Pakistani celebs. This will force us to watch the same regular Indian talents which at times, turn boring," the Ramayan actress said.
Earlier, Mahika had expressed her attraction towards Danny and Pakistani cricketer Shahid Afridi. She had even said that she would not mind making out with Danny or Afridi.