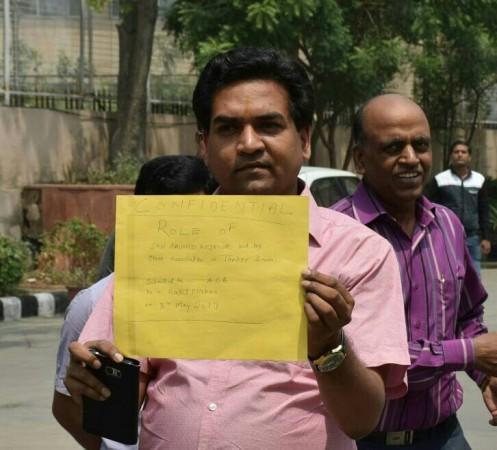 Kapil Mishra, who was sacked as the water minister of Delhi on Saturday, May 6, appeared before the Anti-Corruption Bureau (ACB) in Delhi on Monday, May 8, to submit evidence against two persons in connection with the Rs 400-crore water tanker scam. Lieutenant General Anil Baijal's office will call ACB Chief Mukesh Kumar Meena at 3:30PM over the Rs 2 crore bribery case against Kejriwal.
Mishra had made shocking allegations against Delhi Chief Minister Arvind Kejriwal on Sunday (May 7) accusing him of taking Rs. 2 crore from Health Minister Satyendar Jain. He also alleged that Jain has settled land deals worth Rs. 50 crore for "Arvind Kejriwal's relatives" and that when he asked the Delhi CM about the money he took from Jain, Kejriwal said that a lot of things "happen" in politics that "cannot be explained."
Mishra on Monday submitted evidence against two persons believed to be Kejriwal's aides — Ashish Talwar and Vibhav Patel — to the ACB in connection with the water-tanker scam. "I am going to ACB office at 11 am. I am going to give two person's names to ACB in connection with tanker scam, Ashish Talwar and Vibhav Patel," he told reporters on Sunday.
"I have given tanker scam details to the ACB. I have told them about how money was wasted, how Kejriwal delayed the probe and how there were attempts to save Sheila Dikshit... I will go to the CBI to report about the Rs. 2 crore that Jain gave to Kejriwal... I will be the witness in the tanker scam case. I will be called for a detailed investigation soon by the ACB. I have given them all the information... Manish Sisodia can call my allegations a joke, I don't care," Mishra told reporters after his meeting with the ACB in Delhi.
"I am a witness in the tanker scam case. In August 2015, when I submitted the report, action was taken against me. Kejriwal is shielding Sheila Dikshit. I am going to the CBI, will get an appointment with them soon," Mishra said.
He also said that he was ready to undergo the lie-detector test if needed. "A lie detector test should be conducted on Arvind Kejriwal, Satyendar Jain and me. I am ready to undergo the test," Mishra said after his meeting with an additional CP level officer in the ACB office.
Meanwhile, the Opposition parties, specially the Congress and the BJP, have demanded a probe into the allegations. They have also wanted Kejriwal to resign from his post as the chief minister of Delhi as he has no "moral right to be the CM" of the national capital. Delhi BJP chief Manoj Tiwari also said that L-G Baijal should "examine the possibility of recommending the dismissal of the AAP government to the president."