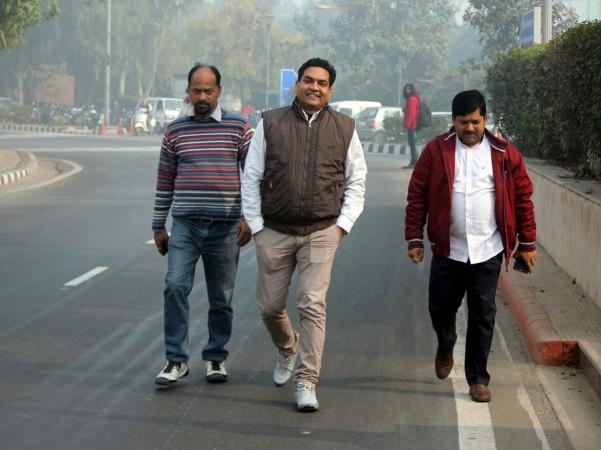 After TV anchor Deepak Chaurasia shared Delhi Tourism and Water Resources Minister Kapil Mishra's mobile phone number publicly, the politician retaliated by doing the same. Chaurasia's wife has now approached Delhi Police claiming that they received almost 600 phone calls, including threatening ones, since Tuesday night.
Mishra shared Chaurasia's phone number on Twitter only to delete it later saying that "hopefully he has realised by now what was he was trying to do and why I made him realise."
"Dear Deepak Chaurasia, you just flashed my personal number on your television channel. I thought the love should not be one-sided. So, I am sharing both your numbers. Enjoy," Mishra had tweeted earlier.
India News anchor Chaurasia received phone calls even in the middle of the night, following which his wife, Anusuya Roy, registered a complaint with Safdarjung Enclave police station on Wednesday. She alleged that the calls started coming after Mishra shared the phone number online. She has also sought protection for her husband and children.
"In their (her husband's) show, they were trying to contact all the ministers of Delhi government, including Kapil Mishra, but they were not taking the phone calls," Roy told the Indian Express.
"Later, he showed the numbers of all the ministers, including Mishra's phone number, on the show, asking the audience to approach their ministers on their own. The ministers' numbers were already there on the Delhi government's website," she added.
The callers were threatening, abusing and passing lewd remarks, Roy said.
Mishra, while sharing the number, asked if it was wrong for the public to have the phone number of a journalist.
The famous TV anchor started receiving calls on Tuesday night after he flashed Mishra's phone numbers during a show regarding rising cases of dengue and chikungunya in the national capital.
After the Twitter spar, Mishra tweeted about #OneDelhi urging people to fight the diseases together. "I will call all Delhi MPs and MCD Leaders to join hands," the AAP leader tweeted.
He further tweeted photographs of areas where fogging was done as a preventive measure against vector-borne diseases.