Saamy2 or Sammy squared (S2) is a sequel to the 2003 blockbuster Saamy directed by Hari. The original featured Vikram in the lead as a police officer who was willing to take bribes, but somehow was not willing to be bought out. The movie in itself was entertaining, especially the stellar award-winning comedy track by Vivek.
The sequel to that film, which nobody really asked for and coming in roughly 13 years late, will be released this weekend but its teaser seems almost anachronistic and out of place for a 2018 Tamil film audience. Big punch dialogues, loud heroics, louder villains, and cars flying about for no reason whatsoever is regular Hari fare and so far, the movie promises only that.
About the film's trailer, trailers are big business now more than ever, and YouTube views actually matter for a film's successful outreach. One reason, for its importance among many, is because people and especially fans, can say exactly what they feel after watching it and right away address it directly to the makers of the movie.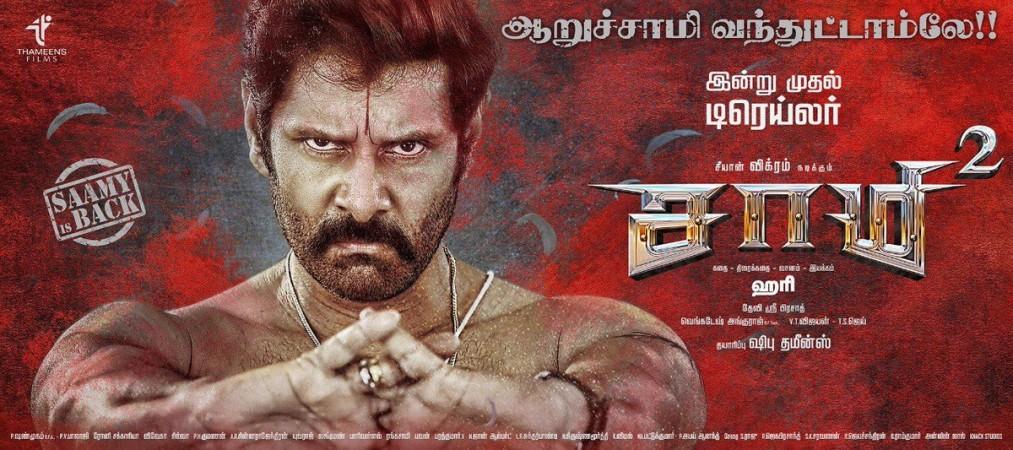 About the trailer in question, there can be no doubt about it- it is a bad trailer. From the very beginning, it is loud, rancorous and can put one's mind in a place where they might not even want to watch the film in the first place.
This is coming from a person who was actually a fan of the first movie, granted, it was 15 years ago, but looking back, it was a fun, entertaining 2.5 hours with more than a few memorable scenes. It was by no means a classic, but it was an adequate "cop beats the bad guy" sort of film.
The trailer for Saamy 2 starts off big - the heavily played out hero puts his foot down and causes dust to scatter and is literally how Aarusaamy (the character) is introduced, just that was enough to sap out what little excitement I had for the film.
Moving on, it becomes clear that almost none of the characters from the first film make an appearance here. Notably missing are Vivek and Trisha. The first one ended with Vikram and Trisha's characters happily married, so did he divorce her in the last 15 years? Was she killed by someone targetting him? Her plotline was such an important part of the first film and not addressed here at all, hopefully, it will be in the final cut of the film.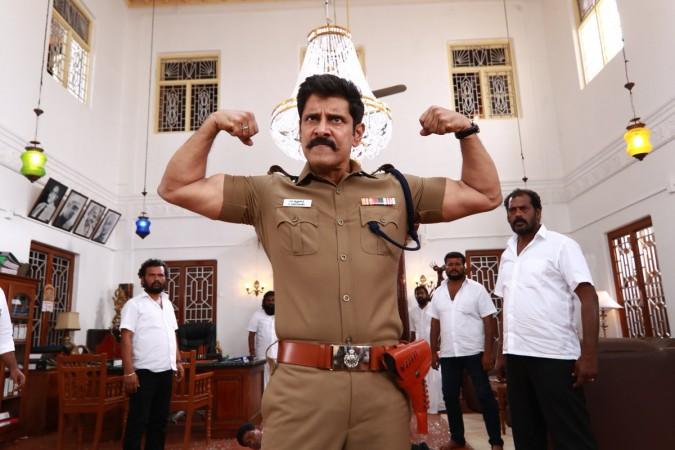 The trailer then delves into fast cutting action, a few over-the-top scenes with cars flying, tables breaking, and a lot of CGI glitter and fake lens flares, there is no real meat in the two-minute trailer to actually get a sense of what the movie is about, just a lot of choreographed violence (which in itself is not a bad thing). Even the dialogue, "Naan thai vayithula porakkala, pei vayithula poranthen!" (I was not born in a mother's womb, I was born in the devil's womb), makes absolutely no sense.
This leads to a bigger discussion of what a trailer is, why it is needed, and its role in promoting a film's release.
A trailer or a good trailer is one that can, in a matter of 2 minutes or less, make the viewer want to watch the film. That is about it. To expand on that thought, a trailer needs to; set the tone of the film, give a brief idea as to what the film is about, something like an on-screen version of an elevator pitch. The director is pitching their film to the audience. Trailers also introduce the characters in the story- the protagonist, antagonist, the love interest, and others. A few highlights from the movie, maybe a joke, a piece of a song and that are it.
What makes it difficult to pull off successfully is that this formula must come together and tell a story. A small, yet effective story which makes one want to actually go and watch the film without giving away too much. That pretty much sums up most of what the greatest trailer makers and PR gurus have to say.
Tamil filmmakers have a track record of being reasonably good at making films, but rarely does one get to see a truly great trailer. Consider a few trailers of movies that were released this year, and are awaiting release in the upcoming months. Also, mentioned are the author's own intrigue levels based on nothing but what is shown in the trailer, with higher points showing more interest. These are teasers that he, personally found to be quite effective at setting the stage for their films.
Kolamaavu Kokila (7.0)
'96 (7.5)
Naragasooran (8.0)
Vanjagar Ulagam (7.5)
U Turn (7.0)
Chekka Chivantha Vaanam (6.5)
Vada Chennai (7.0)
Enai Noki Paayum Thota (6.0)
This list is by no means complete nor is it exhaustive, also, the opinions expressed are the writer's own.