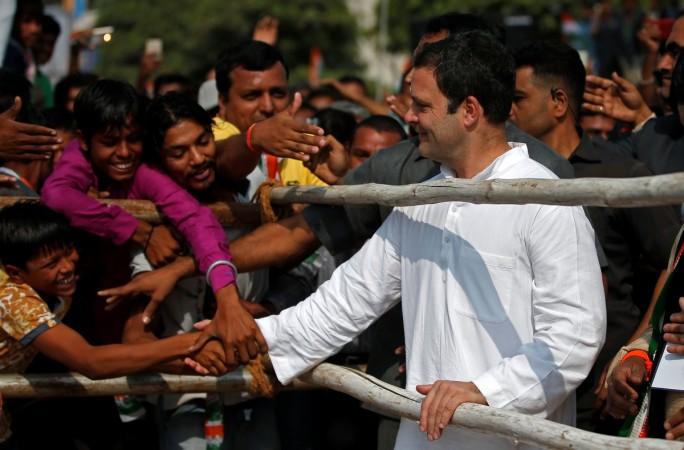 Congress President Rahul Gandhi will appear in a Thane court on June 12 for a hearing in a defamation case filed by an RSS worker. This comes days after former President and senior Congress leader Pranab Mukherjee attended an RSS event in Nagpur.
The defamation case was filed by a Rashtriya Swayamsevak Sangh (RSS) activist Rajesh Kunte following Gandhi's utterances at a rally in Thane in March 2014 in which he had accused the RSS of killing Mahatma Gandhi, the Father of the Nation.
At the June 12 hearing, the charges are likely to be framed against the Congress President by the Bhiwandi court.
Later, Gandhi will travel to Mumbai and directly interact with the party's over 15,000 booth-level workers at a function in Bombay Exhibition Centre, Goregaon, a crucial exercise ahead of the 2019 Lok Sabha elections.
This would mark the launch of a national endeavour, "Project Shakti" through which the Congress President would establish direct communication between the grassroots workers and the party's central leadership, said Mumbai Congress President Sanjay Nirupam.
He said the party workers would be enrolled in the project using their basic details and confirming that those enrolling were actually Congressmen. These filtered people would then need to send an SMS to a contact number which would be provided to them by the party officials.
These will enable the ground-level workers to share their ideas and views with the central leadership of the party which will boost their morale ensuring a proper flow of communication internally.
Nirupam said that the all-India level project would be kickstarted in Mumbai by Gandhi and it was being considered a "path-breaking initiative of the Congress party to link with the extremely crucial chain in the party machinery".
"The 'Project Shakti' will not only ensure the connect with the ground-level workers but also ensure that their grievances, if any, are resolved at the earliest. Every person who believes in the ideologies of the Congress, their inputs are important to us. Also, it will help us look at the problems of Mumbai at a micro level where development actually takes place," Nirupam explained.
This will be Gandhi's first public engagement in Mumbai after taking over as Congress President in December 2017.
In the 2009 Lok Sabha elections, of the six seats in Mumbai, the Congress had bagged five while its ally Nationalist Congress Party (NCP) got one.
However, 2014 proved a major setback for the party's stronghold when the Congress-NCP lost all the city seats to the Shiv Sena-Bharatiya Janata Party (BJP).
Nirupam, who had contested from Mumbai North, failed to retain the seat and lost to the BJP candidate by a large margin in 2014.