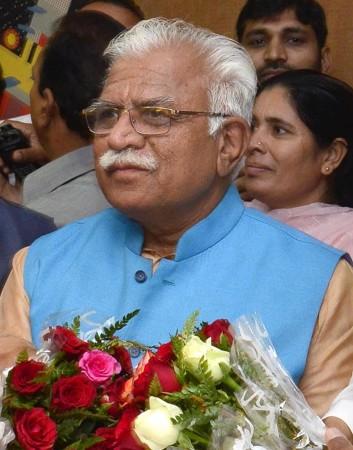 Haryana Chief Minister Manohar Lal Khattar has said that the accused in the Rewari gangrape case will be arrested soon.
Speaking to reporters on Sunday, Khattar stated that it was unfortunate that the accused and victim knew each other and it was even more unfortunate that an accused is an Army personnel.
"Three accused have been identified. It's unfortunate they (accused-victim) knew each other. It's even more unfortunate that one accused is an Army personnel. Search is underway. We've announced a reward of Rs 1 lakh on their head. They'll be nabbed soon," Khattar was quoted as saying by ANI.
Earlier in the day, the victim's mother said that some officials had gone to her house to offer a compensation cheque. "Some officials came yesterday to give me a compensation cheque. I am returning it today, as we want justice & not money. It has now been 5 days & none of the accused have been arrested till now," ANI quoted her as saying.
The special investigation team (SIT) of the Haryana Police has taken a person into custody on Sunday. The arrested person is the owner of the tubewell, where the incident had taken place. He had given keys to the room where the girl was raped. The SIT is interrogating him while the main accused is still on the run.
Following the incident, Rewari Superintendent of Police (SP) Rajesh Duggal has been transferred. Rahul Sharma has taken over as the new SP of Rewari, ANI reported.