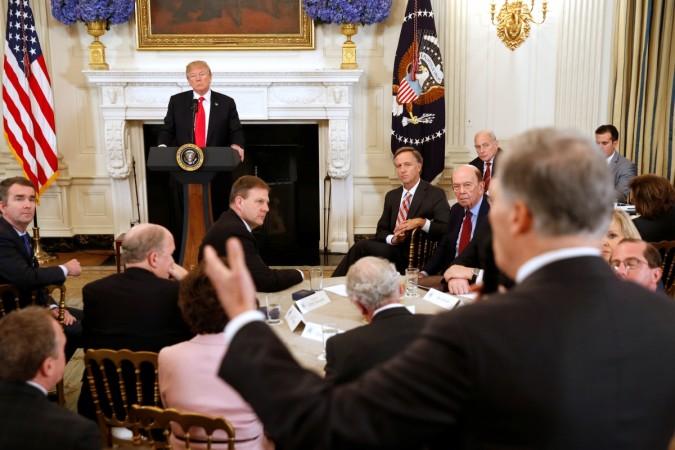 Republicans have sought Nobel Peace Prize for US President Donald Trump, claiming he had played a major role in the denuclearization talks between North Korea and South Korea. His supporters demanded the prestigious honor for the president while he was addressing a rally in Michigan, Saturday night, April 28.
Republican supporters took the opportunity to chant "Nobel! Nobel!" while he was addressing the rally. Trump acknowledged their support and said "Nobel. That's very nice, thank you. That's very nice." However, it is not certain whether Trump found the chants funny or if he genuinely liked the idea of getting the prestigious honor, Hindustan Times reported.
If Trump does indeed end up winning the Nobel Peace Prize, then he will become the fifth US president to receive the honor. The other four presidents are Theodore Roosevelt, Woodrow Wilson, Jimmy Carter, and Barack Obama.
Along with the US president, even Korean leaders Kim Jong Un and Moon Jae-in could see themselves among the 329 candidates shortlisted for the prize this year. Out of the 329 candidates, 216 are individuals and 113 are organizations.
It was not just limited to the Republican supporters who have backed the president to win the prestigious prize, even fellow Republican Party members have called for it.
"We are seeing unprecedented progress toward peace, and it's a direct result of President Trump's strong leadership. Following this historic announcement, President Trump should get the Nobel Peace Prize. Our peace through strength strategy is delivering never before seen results," Indiana representative Luke Messer was quoted as saying in an official statement by TOI.
Ever since the Inter-Korean summit took place, there have been speculations on Trump winning the Nobel Peace Prize. This was also reportedly backed by bookies from the United Kingdom who've slashed the odds on him getting the prize, reports HT.
Twitter was abuzz after North Korea decided to shut down their nuclear test site. And many Republicans took to the social media platform to say that "Donald Trump ended the Korean War". Here are a few reactions on Twitter.
Obama couldn't even bring peace to Ferguson, Missouri and he got the Noble Peace prize!

Let's see if Trump gets the Noble Peace prize for bringing world peace!

— Lori Hendry (@Lrihendry) April 28, 2018
God bless America.
God bless President Trump.
And God bless the peace process. Sometimes things are bigger than political affiliations.

And the Nobel Peace Prize goes to President Trump.....good job Mr. President, the world thanks you.#MAGA pic.twitter.com/vVJfHqFdGs

— ?? Hanna ?? (@polishprincessh) April 27, 2018
Obama got a Nobel Peace Prize for instigating chaos all across the world and emboldening the enemies of the United States.

By this standard, not only should Trump receive 100 awards, but the award should be named after him.

The Trump Peace Prize#NorthKorea #KoreanWar #maga

— ??CoreyJones?? (@CoreyLMJones) April 27, 2018
BREAKING: North Korea WILL be shutting down their Nuclear testing site.

President Trump deserves a Nobel Peace Prize.

— Thomas Hern (@ThomasMHern) April 29, 2018