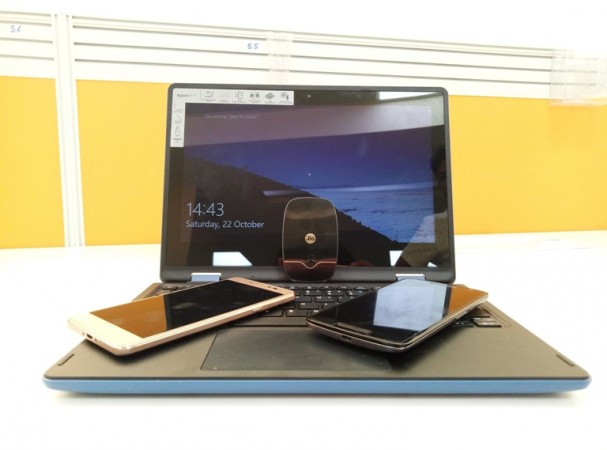 Everyone's talking about Reliance Jio's "Happy New Offer" being extended to all existing and new users till March 31, 2017, but little did we hear about if the extended free 4G data offer is applicable for JioFi devices. Well, you can stop wondering as International Business Times, India, has been informed that the new offer is valid for the tiny hotspot devices that Jio sold across India.
It is practically evident that the offer is extended to JioFi devices as they use a Jio SIM card to work as a 4G hotspot device. And Jio's Happy New Year offer is for all Jio SIM cards, regardless of what device you use. Being sure is always good and the company confirmed that JioFi devices are certainly a part of the extended offer.
When Jio announced the Welcome Offer back in September, people went wild over the generous offering by the new telco. Jio SIM cards became so popular that getting hands on one of them was next to impossible. Long queues were seen outside Reliance Digital stores, a sight which can be related to today's queues outside ATMs and banks.
In order for a Jio SIM to work, the user required a 4G-enabled smartphone. But even then, the waiting time to get a Jio SIM was extended for days and sometimes weeks. At that time, Reliance Jio started selling JioFi devices to help users with or without 4G smartphones get the free 4G data on multiple devices at once.
Read: Reliance JioFi 2: How to set up, instantly activate new hotspot device with unlimited data
We reviewed the JioFi 2 back in October. Although we found it extremely useful for carrying it around and getting a good connection most of the times, challenges like battery life and speed remained.
Read: How to change WiFi password and SSID in Reliance JioFi 2 hotspot device?
JioFi came as a knight in shining armour for those who had trouble getting multiple Jio SIM cards. With JioFi, it is possible to connect up to 10 devices (that's if you want a decent speed) but can go as high as 30 devices. The cost of the JioFi was reasonably placed at less than Rs. 2,000, which was a fair deal considering a basic 4G smartphone would start at Rs. 4,000 in India.
If you are one of those who bought the JioFi device back in the day, the amount you spent on the device is well worth now that Reliance has extended its free 4G data offer till March 31, 2017. With the rumours going around, you might even get luckier if Reliance Jio extends its free offering beyond March 31. Frankly, we are not placing our bets on that. But you never know!