India's leading telecom operator Bharti Airtel finally scored a brownie point against Mukesh Ambani-led Reliance Jio in April by adding more active users since the latter's launch in September 2016. Analysts said the 4G entrant would continue to face tough competition in subscriber addition.
In April, Bharti Airtel managed to add 2.6 million active subscribers, compared to only 400,000 active users by Reliance Jio, brokerage firm Goldman Sachs said, based on visitor location register (VLR) data provided by Telecom Regulatory Authority of India (TRAI). The VLR is a key metric to measure the number of monthly subscribers actively using mobile services.
Reliance Jio's addition of 400,000 active subscribers in April actually reflects "its fourth straight month of deceleration," the Economic Times reported, citing the US brokerage firm.
Goldman Sachs data also revealed Bharti Airtel would continue to gain more subscribers, especially after Jio ended free data/call offers at the end of March. Reduced tariff prices by incumbents in response to Jio's freebies have also attracted customers of late.
According to TRAI, 4.96 million subscribers in April requested for mobile number portability (MNP), taking the total MNP requests to 277.72 million from 272.76 million at the end of March.
Not only Bharti Airtel, Idea Cellular, too, outnumbered Reliance Jio by adding 0.6 million active subscribers in April. Vodafone, on the other hand, managed to clock only 0.3 million active users during the same period.
However, when it comes to paid customers, Reliance Jio saw a sharp growth from 72 million in March end to over 80 million by the end of April, ET reported, citing sources.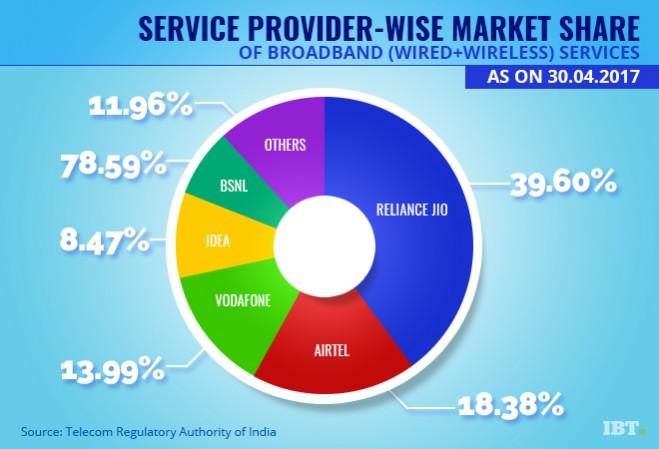 Reliance Jio was also at the peak of the TRAI chart for the top five broadband service providers by the end of April, with 112.55 million subscribers followed by Airtel (52 million), Vodafone (39.76 million), Idea Cellular (24.09 million) and BSNL (21.58 million).