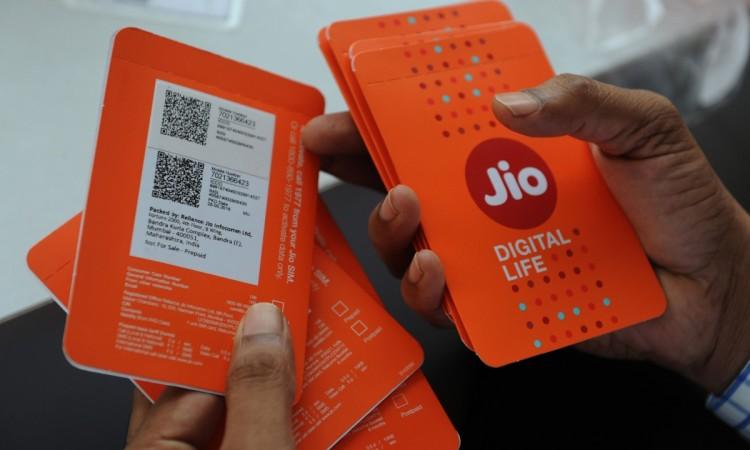 Indian billionaire Mukesh Ambani's Reliance Jio has turned the Indian telecom sector into a fierce battleground with network providers fighting aggressively for market share over the past four quarters. The Jio effect was so disruptive that data prices per GB nearly halved during the period, benefitting consumers immensely, according to the Internet Trends Report 2017 by Kleiner Perkins Caufield Byers (KPCB), a U.S.-based venture capital firm.
The latest findings reveal that Reliance Jio's average revenue per user (ARPU) rose from $0 to $4.70 (about Rs. 300) after the company ended its free services in March 2017. With 72 million consumers out of 108 million total sign-ups, till March end, the newcomer successfully converted nearly 67 percent of users enjoying its freebies to paid Jio Prime subscribers.
Bharti Airtel, Vodafone India and Idea Cellular, the three major telecom players who collectively accounted for 60 percent share of India's broadband subscription between 2015 and the first half of 2016, started feeling the heat even before Reliance Jio's commercial foray in September 2016.
The trio and other telecom service providers in the country began to cut data rates as early as the second quarter of 2016, in anticipation of Reliance Jio launch by the end of the subsequent quarter. The incumbents' fear of losing data subscribers turned out to be true after the fourth quarter of 2016, forcing them to cut data prices further.

During the second quarter of 2016, the voice revenue of Indian network providers dropped by 4 percent quarter on quarter while data cost per gigabyte (GB) fell from $3.50 (Rs. 226) to less than $3.15 (Rs. 203), according to the KPCB findings.
The Jio effect has turned India's telecom landscape extremely competitive over the last few months, with incumbents charging as low as $2 (about Rs. 130) on average for 1GB of data. Reliance Jio's average cost for the same amount of data, on the other hand, was $0.33 (about Rs. 22) till March 2017.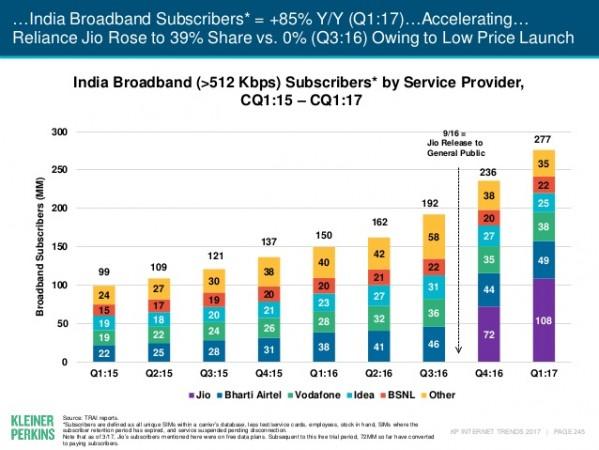 Reduced prices, thanks to the disruptive effect of Reliance Jio on the Indian internet and telecom industry, also triggered a staggering 85 percent annual growth in the country's broadband subscriber base in Q1 2017. Jio, which had 0 percent market share in the third quarter of 2016, choked rivals to claim 39 percent share by the end of the three-month period ending March 31.
Reliance Jio's entry also led to a huge drop in Airtel's revenue in the fourth quarter of 2016. India's No 1 telecom operator reported a 72 percent drop in its quarterly profit, and blamed Jio's "predatory pricing" for the downfall.