Reliance Jio's free offerings helped the company grow its subscriber base, but the tactic apparently cost the overall industry in revenues in the fourth quarter of 2016, a new report said on Wednesday.
The growth of Reliance Jio's subscribers and the freebies the carrier offered till the end of the last quarter of 2016 resulted in an 11.7 percent annual decline and an 8.5 percent quarterly decline in industry revenues during the three-month period, according to the report by Jefferies.
"Reliance Jio effect was also evident in the decline being maximum in metro and A circles where Reliance Jio has a higher penetration, and where the smartphone ecosystem is better developed," the report added.
The Internet Trends Report 2017 by Kleiner Perkins Caufield Byers (KPCB), a US-based venture capital firm, also recently revealed that the Jio effect was so disruptive that data prices per GB nearly halved across the industry over the past four quarters.
Incumbents like Bharti Airtel, Vodafone India and Idea Cellular, who began to cut data rates even before Reliance Jio's commercial foray in September 2016, reduced prices further even after the fourth quarter of 2016 in anticipation of losing more subscribers.
Reliance Jio's entry also led to a huge drop in Airtel's revenue in the fourth quarter of 2016. India's No 1 telecom operator reported a 72 percent drop in its quarterly profit and blamed Jio's "predatory pricing" for the downfall.
According to Jefferies, Jio's subscriber base had a steady growth to reach over 108 million by the end of fourth quarter of 2016, with 80 million active subscribers. However, the company has suffered a slowdown in subscriber addition in the recent months, mainly due to limited 4G device ecosystem.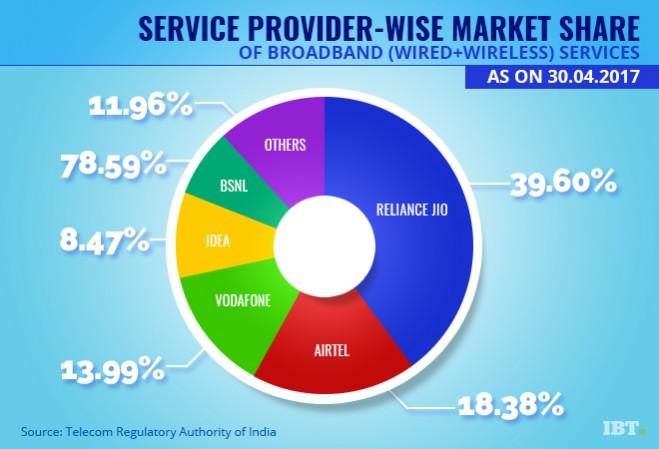 The latest data released by the Telecom Regulatory Authority of India (TRAI) also showed that Reliance Jio could add only four lakh active users in April, compared to 26 lakh active subscribers added by Bharti Airtel. Jio also lost to Idea Cellular, which added six lakh active subscribers during the same period.
"The Top-3 combined now have a 76 percent revenue market share in the industry," the Jefferies report said, adding that India will likely "remain a five-player market at best, with three equally strong competitors (Bharti, Voda-Idea combined and Jio) being as bad for incumbents as a fragmented market at present."