Reliance Jio has once again proved to be a consumer-friendly telecom operator. Following TRAI's latest order, Mukesh Ambani's telco ended its "Jio Summer Surprise," which led to a great deal of disappointment among users. Not for long though, as Jio has come up with something new, and you're going to love it just as much.
On Tuesday, Jio announced "Dhan Dhana Dhan". Under the new promotional offer, users will be able to get all the benefits of Jio Summer Surprise offer, including unlimited data, free SMS, roaming, voice calls and Jio apps subscription, for three months. There is a slight change in the tariff though.
There are two plans under Jio's Dhan Dhana Dhan offer.
In the first plan customers will get 1GB data per day for 84 days for Rs 309, while the second recharge pack will come with 2GB data per day for the same period of time at Rs 509. The Jio Summer Surprise packs were priced at Rs 303 and Rs 499, respectively.
Just like the Jio Summer Surprise, Jio Dhan Dhana Dhan requires a user to be a Jio Prime member. But new users can also avail the offer by paying Rs 99 towards Jio Prime membership on top of the recharge packs mentioned above.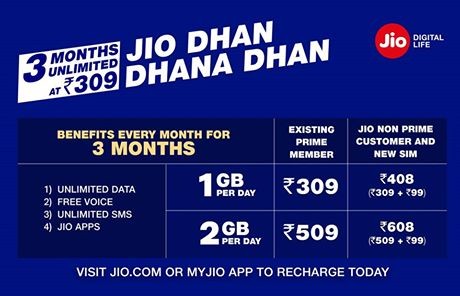 Finally, the existing Jio users who haven't enrolled for Jio Prime yet will pay slightly lower than new customers to avail the Dhan Dhana Dhan offer. The 1GB data per day plan will cost Rs 349 and the 2GB data/day will be Rs 549.
Both Dhan Dhana Dhan plans come with unlimited data, free voice calls, unlimited SMS and access to MyJio apps.
It is also worth noting that the Dhan Dhana Dhan offer is a one-time recharge, but Jio Prime members will be treated with more surprises in the coming months.
How to get Jio Dhan Dhana Dhan offer?
It's quite simple really. Go to www.jio.com.
You'll see a Jio Dhan Dhana Dhan banner on the homepage with a "Recharge Now" option as shown below. Tap on that.

Enter your Jio phone number in the blank space and click Submit.

You will either get an option to recharge for 1GB per day data plan or 2GB per day data offer, or you'll get both. Choose your plan and click on "Buy" button at the extreme bottom of the page. Choose if you want to enable auto-pay option before clicking on Buy.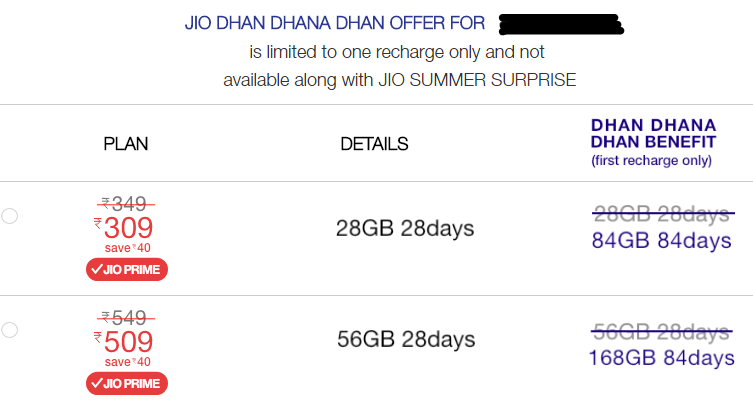 The final step is to proceed to payment. Upon successful payment, you'll get a confirmation SMS on your Jio phone number.