Finnish company Nokia, which is slated to return to global smartphone business with launch of Android-powered Nokia 6, 5 and 3 series phones, has a much bigger plan than anticipated.
The Finnish company has signed an MoU (Memorandom of Understanding) with India's biggest network carrier Airtel and also state-run Bharat Sanchar Nigam Limited (BSNL) to bring new-age 5G telecommunication service to India.
"Thoughts behind these MoUs would be to introduce 5G here, and what are the steps required for the same, besides identifying applications to define the target segment, which will lead to a complete 5G strategy for telcos," Sanjay Malik, vice president & head of India market (Nokia), said to The Economic Times.
For those unaware, 5G network speeds can reach a speed as high as 20Gbps download (10gbps: upload) and its latency is extremely low (1ms). On the other hand, 4G can reach up to 1gbps (Giga LTE: Cat. 16) and has high latency of 50ms.
[Note: Latency is the amount of time a message takes to traverse a system.]
Airtel and BSNL are expected to utilise Nokia's 5G FIRST, an end-to-end 5G solution, the AirScale radio access portfolio and AirFrame datacenter platform for extreme broadband, ultra-reliability and low-latency communication and to also support the future network demands connected to Internet of Things (IoT) and Smart Cities.
5G is also considered to be the platform, which enables growth in many industries, ranging from the IT industry to the car, entertainment, agriculture and manufacturing industries.
When will 5G network service come to India?
Tests on 5G network connectivity have already commenced in select regions of Europe and also in South Korea, but the commercial operation is not likely to go live at least until 2020.
In December 2016, International Business Times, India covered Nokia Innovation Day 2016 event at its Bengaluru R&D facility and witnessed 5G network simulation showcasing self driving cars (toy models) and smart parking car tags.
Nokia also demoed Video Analytics, which is used for real time city surveillance and showcased public safety initiative related to railroad crossing trespassing detection, which ensures safety of the people.
Also read: Nokia Innovation Day 2016: 5G and IoT to usher smarter cities in India
During the event, International Business Times India asked Nokia about a realistic timeline on 5G service debut in India. An executive said that the deployment of 5G service in the country depends on the willingness of Government and network carriers. If they auction required spectrum in a next couple of years, we can expect 5G service to take off in India around 2020 or by the end of 2022.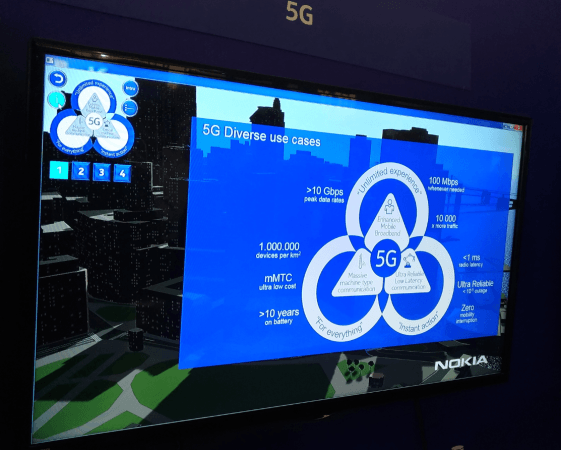 In a related development, the new entrant Reliance Jio is already working with Samsung for 5G upgradation, while they scale up 4G network connectivity in more regions of the country. So far, the Reliance Jio coverage in India has reached 90 percent.
As per recent reports, Government of India has already set the ball rolling for auction of 5G network compatible 3,000MHz spectrum bands. If all things go as planned, Nokia intends to commence 5G testing in 2018 and hopefully start commercial operation within five years from now.