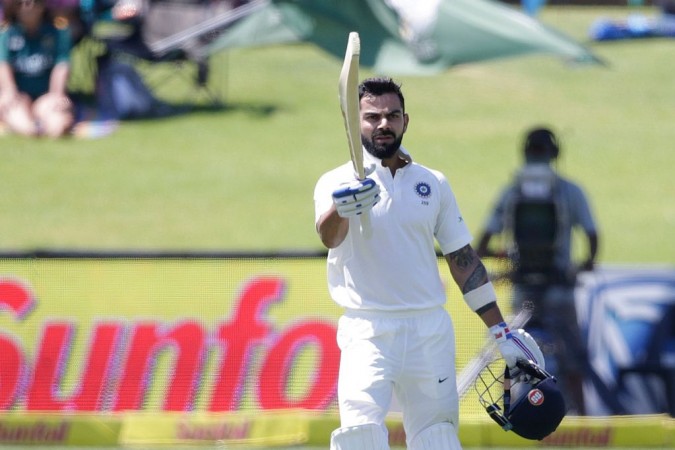 Virat Kohli went past Sachin Tendulkar and Rahul Dravid and became only the second Indian batsman after Sunil Gavaskar to reach the magical 900-point mark in the International Cricket Council's (ICC) Test rankings.
Kohli achieved his career-best of 900 ranking points and leapfrogged England captain Joe Root to the second spot, according to the latest ICC rankings updated on Thursday, January 18.
Also read: Virat Kohli's outburst at Centurion press conference 'not at all correct', says Mohammad Azharuddin
Notably, the Delhi batsman had hit a valiant 153 in Centurion earlier this week but was not able to prevent hosts South Africa from taking an unassailable 2-0 lead in the three-match series.
Gavaskar on top; Tendulkar, Dravid missed 900-mark
Gavaskar leads the Indian list with 916 points, a milestone he achieved in his 50th Test when he scored 13 and 221 at The Oval, London in 1979. Australia captain Steve Smith, who is sitting pretty on the top spot, leads the current list with 947 points.
Tendulkar could not break the 900-mark barrier as he achieved a high of 898 in 2002 while Dravid's ranking points peaked at 892 in 2005.
"Kohli is only the 31st batsman in the history of Test cricket to reach 900 points. Don Bradman sits on top of the table with 961 points, followed by Steve Smith (947), Len Hutton (945), Ricky Ponting and Jack Hobbs (both 942 points)," an ICC media release said on Thursday.
Kohli had a poor start to the ongoing South Africa tour as he failed in both the innings of India's 72-run defeat in the first Test in Cape Town. However, the skipper led from the front with the bat in Centurion and hit his 21st Test century.
Kohli though maintained that that the Centurion ton meant nothing to him as the team lost by 135 runs. Notably, it was India's first Test series defeat during his full-time tenure as captain.
"150 means nothing now that we have lost the match and the series. Having not won the game, personal milestones do not matter at all. Had we won, even a 50 or 30 would been good. You go out there and you give your best shot. We tried our best and we just weren't good enough," Kohli said on Thursday ahead of a fiery press conference.
Check out the latest ICC Test batsmen rankings
(Read as Rank (+/-), Player, Team, Points, Average, Highest Rating)
1 ( - ) Steve Smith Aus 947! 63.75 947 v Eng at Sydney 2018
2 (+1) Virat Kohli Ind 900! 53.51 900 v SA at Centurion 2018
3 (-1) Joe Root Eng 881 53.28 917 v Aus at Trent Bridge 2015
4 ( - ) Kane Williamson NZ 855 50.62 893 v Aus at Perth 2015
5 (+1) David Warner Aus 827 48.77 880 v NZ at Perth 2015
6 (-1) C Pujara Ind 814 51.09 888 v SL at Nagpur 2017
7 ( - ) Azhar Ali Pak 755 46.62 787 v Aus at Melbourne 2016
8 (+2) Hashim Amla SA 745 49.00 907 v Pak at Abu Dhabi 2013
9 (-1) D. Chandimal SL 743! 43.94 743 v Ind at Delhi 2017
10 (-1) Alastair Cook Eng 742 46.35 874 v Ind at Kolkata 2012