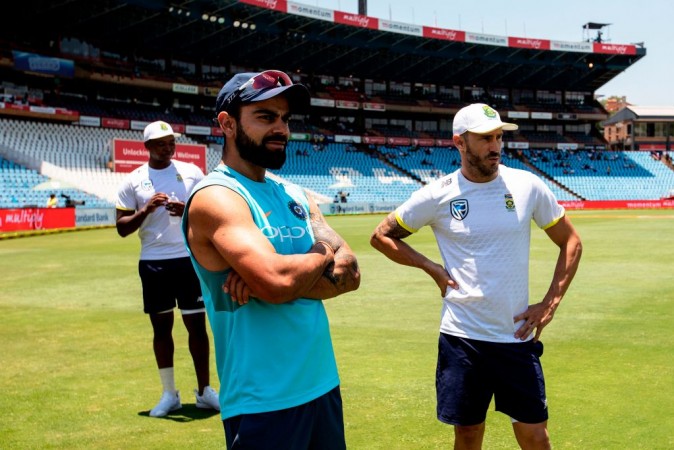 Former India captain Mohammad Azharuddin slammed Virat Kohli, saying the skipper needs to learn how to handle the media when things are not going the team's way.
The 54-year-old's comments come after an angry Kohli lashed out at a journalist, who questioned the inconsistency in India's selection policy, during a press-conference in Centurion after the team had conceded an unassailable 2-0 lead to South Africa in the ongoing three-Test series on Wednesday, January 17.
The journalist pointed out that Kohli has not fielded the same playing XI in two consecutive Test matches ever since he took over as captain in 2014. He asked the skipper how he expected to win Test matches without being consistent with team selection.
Kohli shot back, insisting the number one-ranked team has been winning matches despite changes in the playing XI. The Delhi batsman even said he had not come to the press conference to "fight" with journalists. The skipper then asked the journalist how many matches South Africa have won in India.
The angry outburst did not go down well with Azharuddin, who had led India to their first tour to South Africa.
"A captain's job is to defend his decision-making and I believe this was the reason why he was defending himself and got agitated during the press conference. But getting angry over a reporter's question was not at all correct," Azharuddin told Sports Tak, as quoted by India Today.
He added: "It is a reporter's right to ask questions. If you like a question you answer it, and if you don't like it just don't answer. Virat Kohli will have to understand how to handle the press when things are not going your way,"
Meanwhile, 1983 World Cup-winning all-rounder Madan Lal also expressed disappointment at the way Kohli handled the press on Wednesday.
"Virat shouldn't have lost his cool. This was nothing, more questions will be asked if India go on to lose the third Test. I feel, it wasn't India's best XI that played in the Centurion Test," Lal said.
Surprising selection calls from Kohli
All hopes of revival of overseas fortunes under Kohli were dashed as India came up with yet another disappointing batting display to lose the 2nd Test in Centurion by 135 runs. Except the skipper, who made 153 in the first innings, none was able to contribute significantly with the bat. Notably, India had lost the first Test in Cape Town inside four days.
Kohli's decision to keep fiddling with the playing XI has been critiqued. The Indian captain drew a lot of flak from fans and former cricketers after his decision to bench Ajinkya Rahane, who has been scoring consistently on the road, in the first Test.
More eyebrows were raised when Bhuvneshwar Kumar was dropped for the second Test after the Meerut fast bowler had come up with an impressive all-round show in Cape Town.
India will now look to avoid a whitewash when they take on South Africa in the third and final Test of the series in Johannesburg from January 24.