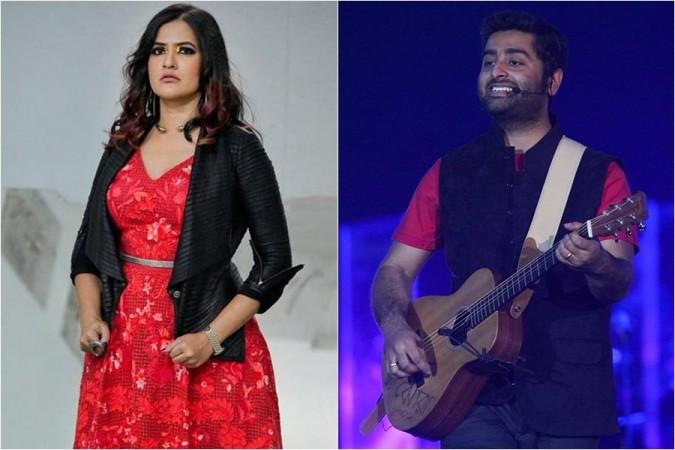 Singer Sona Mohapatra, who is best known for her songs like Bedardi Raja and Mujhe Kya Bechega Ruppaiyya, recently revealed that she had walked out of a studio when she was called up to sing a song with one of the most-sought after Bollywood playback singer Arijit Singh.
The Ambarsariya hitmaker, who never shies away from openly calling out big names and expose the regressive approach in the glamour industry, told Hindustan Times, "I have been called up for such songs and I have walked out of studios because I don't want to sing a song where a mukhra-antara, mukhra-antara is Arijit and I sing the last four lines. It is almost like a man wants to make love to himself in a song. Even in a romantic duet, if the female gets a part only in the end, it is very bizarre and this is in a country where we couldn't put out a soundtrack without a (Lata) Mangeshkar voice!"
There are many talented female singers in Bollywood but yet we don't see them getting enough songs to showcase their vocal range. Also, there have been only a handful of female music composers like Usha Khanna and Sneha Khanwalkar who made a mark for themselves in this male-dominated industry.
Sona also had her own share of struggle while establishing herself as a playback singer in Bollywood.
"For all those years of thinking why aren't there more opportunities, I think I have found fantastic allies like Aamir Khan. I don't have to have everyone on my side. I happened to find someone like Ram Sampath (composer) who has been with me for the longest time and we live in a time where we don't have to suck up to people and wait for that one big break. I would rather sing Mujhe Kya Bechega Ruppaiyya which had a wide cultural impact rather than sing hundreds of love songs. I have a Naina, I have an Ambarsariya but it is okay if I don't get 50 of those. I have never been just a singer. I consider myself a much superior performing artist," Sona told Hindustan Times.
Apart from the hardships in her career, Sona often faces a lot of criticism on social media for her outspokenness. But she is glad that both boys and girls have started voicing their opinion and supporting her whenever she gets trolled for her unapologetic posts.
"There was a time (10 years ago) when my Facebook posts would attract negative comments in the public and people would send me personal messages who would not have the gumption to write on the page... for the fear of being trolled... women would rarely comment on the page... now I see people voicing their support for me in public -- both men and women are openly expressing support for the cause of freedom....now I don't have to be fighting every idiotic comment... I have my fans fighting for my side," Sona was quoted as saying by Hindustan Times.