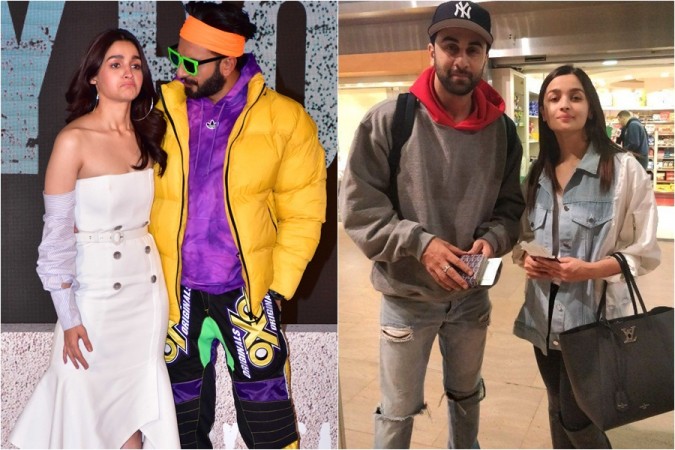 Alia Bhatt has always been quite a shy girl when it came to talking about her boyfriend Ranbir Kapoor and their relationship. And when it comes to teasing, pulling a leg and becoming a match-maker, Ranveer Singh has never fallen short and that's exactly what happened at Gully Boy's trailer launch.
In Gully boy trailer, Alia's character can be seen arguing with Ranveer that if a girl would ever try to hit on her boyfriend (Gulu Gulu), she would smash her head and beat the hell out of her.
As there's no secret about whom Alia is currently dating, she was asked by the mediapersons what would she do in real life if a girl tried to hit on her boyfriend. To which, she replied, "In real life, I would probably not hit anyone because I am non-violent. But yeah, in my mind I would do it but not in person."
And Ranveer being Ranveer, immediately jumped into the conversation with a remark to tease Alia and said, "Kisi majaal hai jo Alia ke boyfriend ke sath gulu gulu kare? (Would anybody dare to flirt with Alia's boyfriend?)." And Alia, who was all red by then, nudged him with a wide smile on her face.
And this was not the only time when Ranveer interjected. During the press conference, when Alia was asked who was more special to work with - Ranveer or Ranbir - she said , "Both of them are really special to me and the only difference between them is that with one of them I am doing Gully Boy and with the other I am doing Brahmastra." To which Ranveer added, "Ek thoda zaada special hai, ek thoda kamm (One is a little more special than the other)."
On a related note, Ranbir Kapoor's sister Riddhima Kapoor Sahni, who is a jewelry designer, gifted Alia and Ranbir gold plated rings with 'AR' written on it in diamonds.
If reports are to be believed, Alia and Ranbir are all in for marriage and Ranbir has reportedly added Alia in his family WhatsApp group as well. The Kapoor family's WhatsAppp group reportedly consists of Ranbir Kapoor along with his dad Rishi Kapoor, mom Neetu Kapoor, sister Riddhima Kapoor Sahni and aunt Rima Jain.
Watch Gully Boy trailer here: