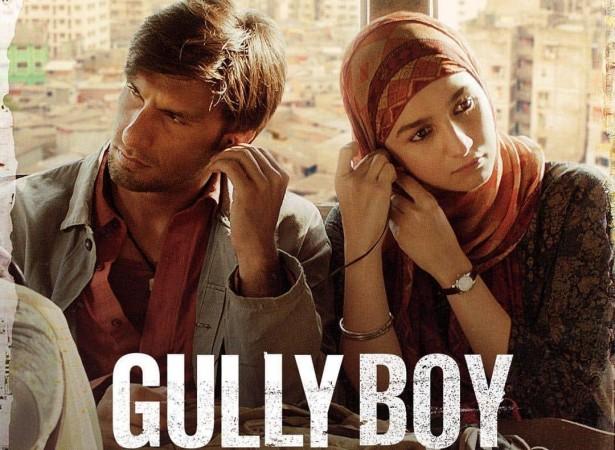 Ranveer Singh's already ruling the cinema halls with his portrayal of a bad-cop-turned-good-cop named Sangram Bhalerao in Rohit Shetty's directorial Simmba. And just a week after, Ranveer has treated its new found mass audience with yet another shade of his acting in the first teaser of Zoya Akhtar's Gully Boy.
Sharing a one-minute-and-thirty-seconds video on social media, Ranveer was seen rapping the song called Asli Hip Hop from the film which has again managed to impress the viewers to the T.
The teaser showed how Ranveer playing the character of an underground rapper from the bylanes of Mumbai trying to making a name for himself. It also featured Alia Bhatt and Kalki Koechlin in pivotal roles and in one frame Kalki and Ranveer shared a lip lock which has managed to catch everyone's eye.
"It is a very special story, one that I am closely attached to. It is set against the backdrop of flourishing desi hip hop scene coming out of Bombay (Mumbai).
"It is the story which represents Mumbai in its true sense and the city is my home town, these are my people, this is my language, so this is the story I am really attached to. It's an underdog story about a kid who broke through from great adversity in life to make it as a recording artiste," Ranveer told IANS.
While the trailer of Gully Boy will be out on January 9, fans and celebrities couldn't stop gushing about Ranveer's new avatar in the film. They flooded the social media with praises for Ranveer's acting and lauded the performances glimpses of the other cast as well. The teaser looks quite intriguing and it looks like Ranveer is having another winner in his hands.
Produced by Ritesh Sidhwani, Zoya Akhtar and Farhan Akhtar, Gully Boy is scheduled to release on February 14.
Take a look what audience and celebrities have to say about Gully Boy teaser.
Asli talent ki vulcano #ZoyaAkhtar with apna dil ka raja @RanveerOfficial & mini meryll @aliaa08 produced by the Maverick trendsetters @FarOutAkhtar & @ritesh_sid cannot wait for Valentines Day cause it's a date with #GullyBoy !!! https://t.co/fdn63fCtdF

— Arjun Kapoor (@arjunk26) January 4, 2019
What a quirky and interesting way to announce the flavour of the film... #AsliHipHop gives such a cool perspective about #GullyBoy... Meaningful lyrics,real locations n engaging characters! Umda! https://t.co/TkQVUyWlVg — Faridoon Shahryar (@iFaridoon) January 4, 2019
I have never ever experienced a trailer announcement like this! & in 2 decades of being a radio presenter Ive seen a little bit #AsliHipHop #GullyBoy @ritesh_sid @FarOutAkhtar @excelmovies @RanveerOfficial @aliaa08 @ZeeMusicCompany @anuragbedi @ksr99 https://t.co/xSYNjbRbu7

— Hrishikesh Kannan (@HrishiKay) January 4, 2019
#GullyBoy trailer announcement is just FANTASTIC. Superstar @RanveerOfficial Raps like a PRO. Trailer out on 9th January 2019. #AsliHipHop https://t.co/4qJw4VAEzM — Sumit M kadel (@SumitkadeI) January 4, 2019
#GullyBoy trailer announcement is just FANTASTIC. Superstar @RanveerOfficial Raps like a PRO. Trailer out on 9th January 2019. #AsliHipHop https://t.co/4qJw4VAEzM

— Sumit M kadel (@SumitkadeI) January 4, 2019
I love love love this!!!!!!! Zoya you star!!!!! Can't wait to see #GullyBoy ❤️❤️❤️ https://t.co/hpY139NsY4 — Karan Johar (@karanjohar) January 4, 2019
This is insanely awesome! FIRE!! Well done Zo #ZoyaAkhtar. @RanveerOfficial, @aliaa08, @ritesh_sid and @FarOutAkhtar - Respect! #GullyBoy https://t.co/8gMz3GAkKn #Represent

— Abhishek Bachchan (@juniorbachchan) January 4, 2019
Now after #Simmba it's time for #GullyBoy.. Can't wait to see the mix bag of talent @RanveerOfficial n gorgeous doll @aliaa08 sizzle on screen. Still remember their amazing chemistry in their @makemytrip ad. Loved it.. I'm sure together they will again create a superhit. — Ria (@RiaRevealed) January 3, 2019
For me, this is one of 2019's most awaited films!! @RanveerOfficial is ready to hit it out of the park, yet again Kill it, boy. #GullyBoy pic.twitter.com/f3cRzSiMze

— Priya Adivarekar (@priyaadivarekar) January 2, 2019
Ranveer Singh Bhavnani is that magic #GullyBoy teaser is all kinds of feels God bless Zoya Akhtar @RanveerOfficial All the best for this one! pic.twitter.com/w070jsWl33 — Rujooz (@Rujooz) January 4, 2019
Zoya Akhtar is one of the most finest directors of hindi cinema and I'm sure the talented woman with two powerhouse of talent @RanveerOfficial and @aliaa08 will definitely surprise us with #GullyBoy!!!
One film I'm extremely excited for: BRING IT ON!!!@FarOutAkhtar pic.twitter.com/FNChE0XZuW

— Iyan Amjad (@IyanAmjad) January 2, 2019
I just don't know why this film means a lot to me,it's not because Ranveer is in it but there's something about it.#GullyBoy pic.twitter.com/uRV3W43ZHY — Nour (@RanveersNour) January 1, 2019
#ZoyaAkhtar what an outstanding teaser...you are the boss Zoya... @aliaa08 even in your silences you are brilliant, the best actor in the world... @RanveerOfficial you freak of nature, is there anything you cannot do? Love the Rapping...you are absolutely EK NUMBER... #GullyBoy https://t.co/mt80FHRN5i

— Shashank khaitan (@ShashankKhaitan) January 4, 2019