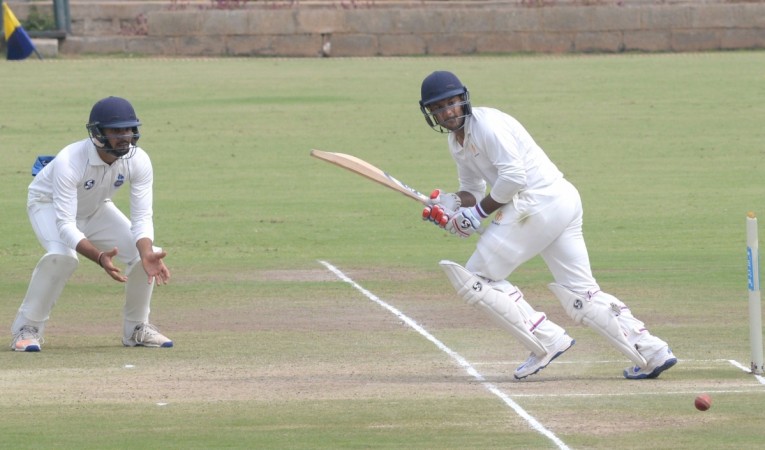 Karnataka batsman Mayank Agarwal will never forget the month of November, 2017 in his entire life. The youngster has achieved what even some of the greats of the game including Sir Don Bradman, Sachin Tendulkar could not.
The 26-year-old right-hander has scored over 1,000 runs in the month of November alone (in 28 days) in the ongoing Ranji Trophy season. He has hit five centuries in four matches including a triple ton - 304 not out.
Also read: Exclusive interview with Mayank
In the current contest against Railways, Mayank constructed two centuries in the game. He scored 173 in the first innings and followed that with 134. Now he has tallied 1,033 runs in November, which is a record in Ranji Trophy.
Though the statistics are not available for the highest number of runs scored in a single month of Ranji Trophy, we can safely say Mayank's numbers are incredible and might have not been achieved before.
Also read: How Azharuddin's words helped Mayank
When we look back, there is an instance in Australia where the great Bill Ponsford scored 1,146 runs in just five innings for Victoria in the month of December, 1927. The right-hander's scores were - 133, 437, 202, 38 and 336.
Now, Mayank might have just equalled this 90-year-old record of scoring more than 1,000 runs in one month. This feat is outside of England. According to reports, Ponsford was the only batsman to have accumulated more than 1,000 runs in a month outside England.
Mayank, who bagged a pair against Hyderabad in Shivamogga in October, bounced back in style. He hit 304 not out in his next visit to the crease. Then his scores were - 176, 23, 90, 133 not out, 173 and 134. He had started the season with 31 against Assam. In six matches, his tally stands at 1,064 runs.
The opener will have more chances to bat as Karnataka have already qualified for the quarter-finals of the tournament.
Mayank, who idolises Virender Sehwag, said he benefited from the advices he received from MS Dhoni, Steve Smith, Rahul Dravid, Yuvraj Singh and also his hero.
He played in the Indian Premier League (IPL) for Royal Challengers Bangalore (RCB), Delhi Daredevils (DD) and Rising Pune Supergiant (RPS). He was part of the India Under-19 World Cup team in 2010. He has also represented India A, coached by Dravid.