Director Sukumar's Rangasthalam starring Ram Charan is set to be released, March 30. The movie which has created a lot of pre-release buzz will be released in a record number of screens. It has received fantastic advance booking across the world for the first day.
The potent combination of Ram Charan and Sukumar has upped many expectations from Rangasthalam. The promos, teaser, trailers, posters, and songs have got an overwhelming response, which has created a lot of curiosity around the film. All the hype around the movie was also a factor due to which the theatrical rights were sold at record prices. The distributors and exhibitors have made grand arrangements for its release in a bid to cash in on the Cherry-Sukku mania.
Rangasthalam is set to be released in over 650 screens across Andhra Pradesh and Telangana, as per the ads featured in the newspapers. The Ram Charan and Samantha Akkineni starrer will grace 200 screens in Karnataka, Chennai, Mumbai and other parts of Indian and 350 screens in the US, UAE, UK and other international markets.
As of now, Rangasthalam is scheduled to be released in over 1,200 screens across the world March 30. The makers, distributors are reportedly still finding more cinema halls for the Sukumar-directed period revenge drama and its screen count is likely to increase as it nears the release date.
The exhibitors made the advance ticket booking for Rangasthalam in some screens in Hyderabad and other places in the Telugu states on March 23, a week before the scheduled release date. As per BookMyShow, the movie has got a very good response as the tickets sale shot up during the advance booking sessions. Many screens have already sold all the tickets for its opening day and very few tickets are available in some cinema halls.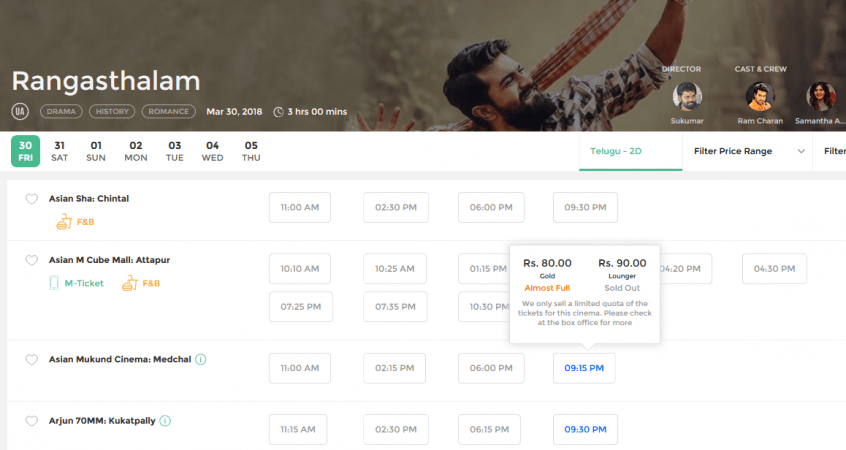 After seeing the huge demand, the distributors are working to add more screens as and when they are available for booking. With just two days left for its release, the movie has already registered an average of 60 percent of advance booking for its first day and this number is likely to reach 90 percent by the day it hits theatres.
The revenge period drama is also getting a very good response in Bangalore, Chennai, Mumbai and rest of India with an average advance booking of 35 percent. What is more surprising is its advance booking in Chennai, which is much bigger than that of Bangalore and other non-Telugu cities in India. As per BookMyShow, some screens have already sold out all the tickets, while others are filling up fast.
Rangasthalam is set for grand premiere show in North America and few other international markets March 29, a day before the actual release date. The movie has reportedly received a great response globally with an average of 55 percent of advance booking for its preview shows on Thursday.
The weekend bookings are also looking great for the movie and this is expected to increase based on the positive word of mouth generated from its screening on its opening day.
Y Naveen, Y Ravi Shankar and CV Mohan of Srimanthudu and Janatha Garage fame have produced Rangasthalam under the banner Mythri Movie Makers. They have shelled out Rs 60 crore on its production and promotions. The movie has fetched them Rs 112 crore in its pre-release business (Check details of its rights). The film has got over 85 percent of table profit for them.