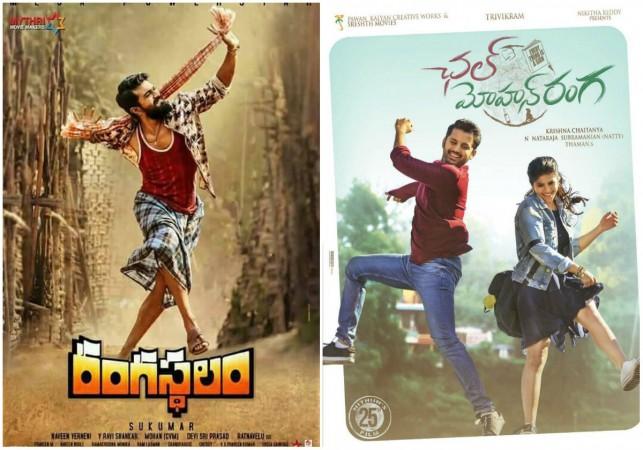 Ram Charan's Rangasthalam is facing a threat from actor Nithiin's Chal Mohana Ranga (CMR), which will hit the screens April 5 and may affect the former's collections at the worldwide box office.
Rangasthalam has been making fantastic collections at the worldwide box office for the past five days. It has recovered over 80 percent of the investment of its distributors, who are hoping that it will earn them a huge profit share in its second week. However, Chal Mohana Ranga poses a threat to the Ram Charan-starrer.
Chal Mohana Ranga, starring Nithin and Megha Akash, is one of the much-hyped and most-highly-awaited Telugu films of 2018. However, the Nithiin-starrer is no match for Rangasthalam in terms of star power, hype, promotion and screen count. But it will still slow down the business of Sukumar's film. Here are five reasons why we think it will affect Rangasthalam's collection at the box office in its second week.
1. Pawan Kalyan production
Nithiin is an ardent fan of Pawan Kalyan, and has said as much in public on several occasions. His admiration towards the power star has helped him get the latter's fans to watch his films. Now, Pawan Kalyan himself has gone on to produce his movie Chal Mohana Ranga with Trivikram Srinivas. This will take away a major chunk of mega family fans from Rangasthalam.
2. Screen count
Chal Mohana Ranga is set for a grand release across the globe and it has to share its screen count with three new releases — Inthalo Ennenni Vinthalo, Satya Gang and Gulebakavali. These movies need over 1,500 screens. Along them, the Nithiin-starrer would force Rangasthalam out of several theatres around the world. This reduced theatre count will affect the collection of Rangasthalam.
3. Family entertainer
Chal Mohana Ranga is a family drama high on the romance and comedy quotient. Trivikram Srinivas, who is known for his family entertainers, has penned the story for this movie. The censor board has awarded it a clean U certificate, which is sure to drive the family audience towards the theatres screening this film.
4. Entertainment quotient
Rangasthalam deals with a serious subject, which needs to be understood well. At times, some twists are complex and hard to understand. On the other hand, the promos of Chal Mohana Ranga show that it is a simple romance drama presented in an entertaining way. This light-hearted film might become the first choice for viewers who are looking for just entertainment without racking their brains.