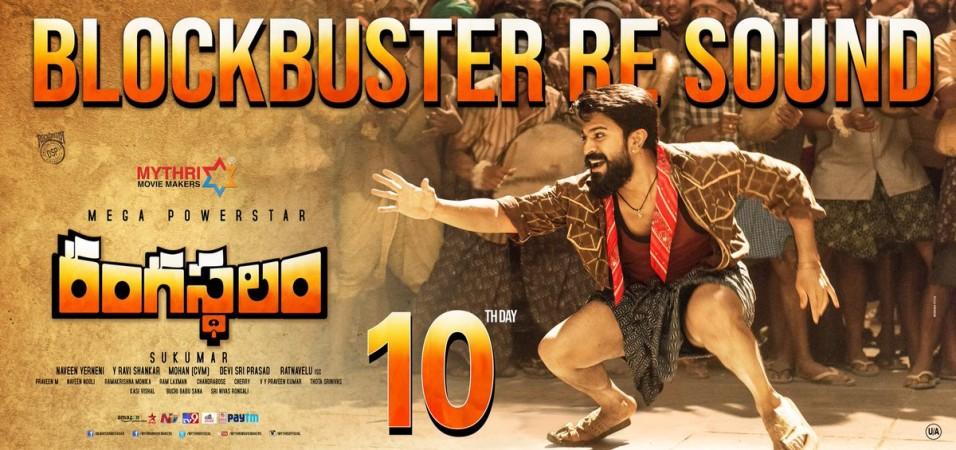 Rangasthalam has received a fantastic response, with its collection inching closer to the $3-million mark at the US box office in its first week. The film has become a blockbuster for Ram Charan and Sukumar.
The Ram Charan and Samantha Akkineni-starrer, which was released in 194 screens, opened to superb response in the premiere shows Thursday. A strong word of mouth took its business upward in the following days. Rangasthalam went to set a new record by crossing the $2-million mark at the US box office.
Rangasthalam collected $2,370,452 at the US box office in the first weekend. Its day-wise breakup is $706,630 from Thursday premieres, $588,305 Friday, $648,823 Saturday and $426,694 Sunday.
Rangasthalam witnessed a steep decline in its collection Monday, and showed some amount of growth Tuesday. However, its business dropped nearly 50 percent Wednesday as compared to its Monday collection. The movie went on to show further dip Thursday. Its collection was apparently affected by new release Chal Mohan Ranga at the US box office.
Rangasthalam collected $374,165 at the US box office on the weekdays, taking its seven-day total collection $2,744,617 (Rs 17.83 crore gross) in the country. Its day-wise breakup is $110,464 Monday, $151,133 Tuesday, $62,192 Wednesday and $50,376 Thursday.
Rangasthalam collected over Rs 5 crore in the UK, the UAE and other international markets in the first week. The movie grossed a total of Rs 22.83 crore at the overseas box office in seven days.
Rangasthalam fetched Rs 9 crore for its producers from the sale of its overseas theatrical rights. The film earned Rs 13.90 crore for its distributors. The movie has not only recovered 100 percent of their investment, but also earned them 30 percent profit share in just seven days. It is expected to fetch more profits in the coming days.