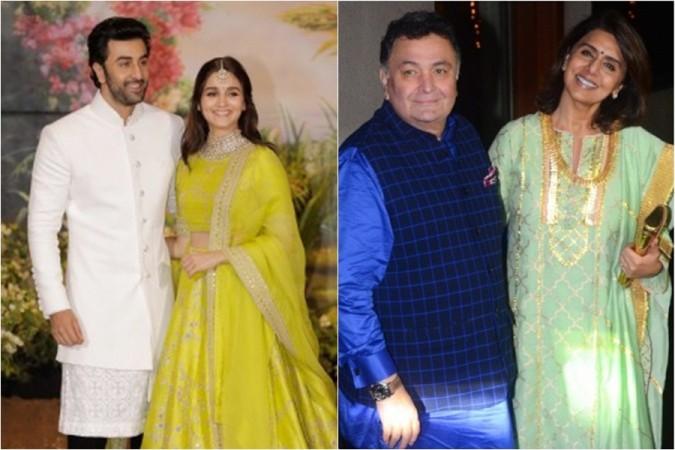 When it comes to relationships, Rishi Kapoor has always been cordial with son Ranbir Kapoor's girlfriends in the past. However, his mother Neetu Kapoor has always had issues with them. Unlike Deepika Padukone and Katrina Kaif, Neetu is in love with Alia Bhatt and is also reportedly ready to welcome her into the Kapoor family as future daughter-in-law.
"Rishi Kapoor has never disapproved Ranbir's girlfriends, be it Deepika Padukone, Katrina Kaif, or any other girl that Ranbir Kapoor has dated in the past. He has been cordial with all of them. It is Ranbir's mother, Neetu, who often disapproves of his girlfriends. She didn't get along with either Deepika or Katrina, but she adores Alia. As far as Neetu ji is concerned, the alliance is a done deal," an insider was quoted as saying by Deccan Chronicle.
Earlier, Alia was seen having an adorable Instagram conversation with Ranbir's mother Neetu Kapoor. The Raazi actress posted a picture of her furry friend, a cat named Edward Bhatt, and Neetu couldn't help but react to it.
In fact, Alia has cast a spell on Ranbir's sister Riddhima Kapoor Sahani, as well. Riddhima, who is a jewellery designer, gifted Alia a gorgeous bracelet. The actress had posted a picture on her Instagram story revealing a beautiful piece of jewellery from Riddhima, coincidentally on the same day when she had a conversation with Neetu Kapoor.
Speculations are rife that the lovebirds will get married in 2020. Rishi Kapoor had also said that it was high time that his son should tie the knot, adding that he wants to spend time with his grandchildren before he's gone.
"It is high time he got married. I settled down when I was 27, Ranbir is 35. So, he should think about marriage. He can marry anyone of his choice; we don't have any objection to it. I want to spend time with my grandchildren before I am gone," Kapoor was quoted as saying by Mid-Day.
Ranbir and Alia had been making several public appearances and Neetu Kapoor has also expressed her fondness with the Bhatt family over the past few months. If everything falls into place, the couple may even get married next year.
"If all goes well, the marriage will happen late next year. Alia will continue working in films post-marriage, thereby breaking the tradition of Kapoor bahus giving up their careers like Babita and Neetu did," the source told Deccan Chronicle.
While their fans have been rejoicing ever since Ranbir confessed dating Alia in an interview, it remains to be seen if the couple will treat them with some moments of their nuptial bliss in the days to come.