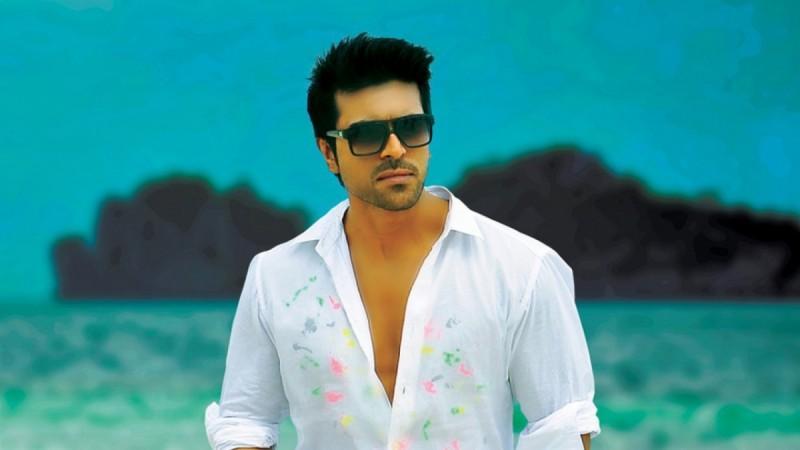 Mega power star Ram Charan, who is basking in the success of Rangasthalam, was recently spotted selling buttermilk, lassi and juice for his special episode on Lakshmi Manchu's Memu Saitham 2.
Memu Saitham, which is hosted by actress Lakshmi Manchu, is a unique reality TV show that extends support to the underprivileged. Celebs, who appear on the show collect money through selling various items. The amount earned by them is given to the needy. After its first season became a hit, the actress-turned-host is back with the second season, which went on air from March.
Ram Charan is the latest Tollywood star to appear on Memu Saitham 2. The mega power star, who is celebrating the success of Rangasthalam, took some time out of his schedule to shoot for the show at Saradhi Studios in Hyderabad. He sold juice and other cold drinks and collected money for charity.
Idlebrain Jeevi released some photos of Ram Charan selling beverages and tweeted, "Mega Powerstar #RamCharan shooting for @LakshmiManchu's #MemuSaitham at Saradhi studios He is selling Buttermilk,Lassi Pudheena Juice, sodas in this hot summer to help a poor family in @GeminiTV #MemuSaitham".
Some popular Tollywood celebs including Tamannaah Bhatia, Nivetha Thomas and Shalini Pandey have already shot for Memu Saitham 2, but Lakshmi Manchu considers Ram Charan's episode as the best one among all the previous episode. The bosses of Gemini TV are yet to announce the telecast date of Cherry's episode.
Ram Charan's earnings will go to a charity home, which takes care of 60 children. Lakshmi Manchu tweeted, "#ramcharan my darling friend, THANK you for coming to #memusaitham and helping a home w over 60 kids. This was the best episode this season. Can't wait for y'all to watch it. Heart full happies for me.
Here are some photos and videos of Memu Saitham 2 featuring other celebs from the industry.
A show that I have been waiting to be a part of #memusaitham @LakshmiManchu its such an amazing initiative, thank you for this ??? pic.twitter.com/RnkMzgu6ba

— Tamannaah Bhatia (@tamannaahspeaks) April 26, 2018
He came forward for as many as he could in the field of sports.
It's time he received the supporting hand, believes @i_nivethathomas. Watch her on #MemuSaithamSeason2, tomorrow at 8:30pm on @GeminiTV. pic.twitter.com/JasIklkfHB

— Lakshmi Manchu (@LakshmiManchu) April 21, 2018
My most favorite clicks are the ones which are candid kinda ones. True feelings,true emotions and capturing at the right moment made this picture as happy as it looks ? for #memusaitham With @LakshmiManchu garu in @GeminiTV get ready all ..? pic.twitter.com/NK4mRQxjs3

— ShaliniPandey (@i_shalinipandey) April 16, 2018
It's all about the power of giving & I learnt it from THE best.
This one's super special. ❤
Watch our very own, Dr.@themohanbabu on #MemuSaithamSeason2 this Sunday on @GeminiTV, at 8:30 pm.
Thank you Nana for always encouraging us & everyone out there with all that you do. pic.twitter.com/8ieIUGAosF

— Lakshmi Manchu (@LakshmiManchu) April 10, 2018