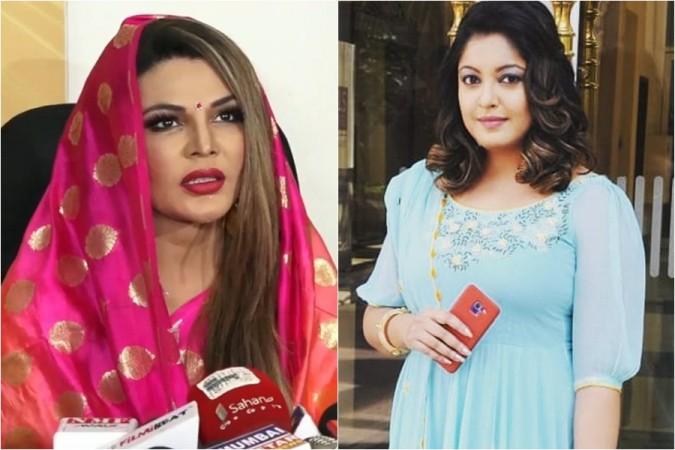 After Tanushree Dutta slapped Rakhi Sawant with a Rs 10 crore defamation suit, the controversial actress at a recent press conference claimed that the Aashiq Banaya Aapne actress is a lesbian. She further accused Tanushree of touching her private parts and raping her 12 years ago. She even went on to say that Tanushree is actually a woman in disguise and a man within.
Rakhi said that though there are many lesbians in the entertainment industry, she specifically called out Tanushree because she has filed a defamation case against her.
However, Rakhi's controversial statements amused Twitter users to such an extent that they thanked the actress for fulfilling their daily dose of entertainment and relieving them from stress and mental pressure.
"Was feeling stressed depressed from last few days....this video has rejuvenated me again.....dukhi logon ki saathi Rakhi ji huamari," a Twitter user commented.
While another user thought Rakhi deserved an Oscar award for delivering her speech without laughing at her own self.
"How did she even manage do it without laughing once?? Somebody give her the Oscar," the Twitter user commented.
Some even joked that if Tanushree was indeed a lesbian then she has a very bad taste that she preyed on Rakhi.
However, there were many people who thought Rakhi has muddied the waters of the MeToo movement with her loose claims.
"The #metoo campaign has brought light to credible cases and is on the right path. BUT with a person such as #rakhisawant making loose claims is such a joke and shame. And whats worst is that she is women herself. The media of india MUST NOT give her any form of footage!
DISGRACE!" a Twitter user commented.
Check out more reactions:
Was feeling stressed depressed from last few days....this video has rejuvenated me again.....dukhi logon ki saathi Rakhi ji huamari....

— Saurabh sharma (@15saurabhSharma) October 24, 2018
How did she even manage do it without laughing once?? Somebody give her the Oscar !! #TanushreeDutta #MeToo #MeTooIndia #TimesUp https://t.co/2s64jlNJe9 — ᙢคᏁἶֆհค ️ ✊~ (@manisha__gupta) October 24, 2018
The #metoo campaign has brought light to credible cases and is on the right path. BUT with a person such as #rakhisawant making loose claims is such a joke and shame. And whats worst is that she is women herself. The media of india MUST NOT give her any form of footage!
DISGRACE!

— Kapil (@capz84) October 25, 2018
I thought some bunch of comics has taken #RakhiSawant and done a spoof on #MeToo and they are calling it #SheToo. Wtf moment of thw day. — angel on a broom (@harpriti) October 25, 2018
If u believe others just on the basis of allegations they made against smbdy then u must believe this too! Ain't #MeToo about just naming n shaming people on the basis of allegations alone? Kamaal hai!

— kashif Qureshi (@kashiflion) October 24, 2018
Consequences of filing defamation case against THE RAKHI SAWANT Ye to hona he thabtw use Rang Biranga Ni kehte, Use 'Maal' kehte hai desi Bhasa me — Archit Jain (@ArchitJainTune) October 25, 2018
Ye dekh kar to sabhi genuine me too walo ne bhi apne #metoo wapas le lene hain

— the sheriff ‍♀️ (@sheriff_eye) October 24, 2018
Someone's sexual preference proved disastrous for you Rakhi ma'm However, there's a lot of confusion I see, at a point you say Tanushree is lesbian and in the second statement you say 'wo andar se ladka hai', I mean aapko itna time Mila wo andar se kya hai ye dekhneka. — saket panicker (@SaketPanicker) October 25, 2018
Kudos to all the press people for keeping their shit together without bursting from laughter and Rakhi ki toh baat hi mat karo OSCAR se bhi koi badi award ho toh dedo behen ko.

— OG D A D D Y .Jr (@PCsDRAG0N) October 24, 2018
pic.twitter.com/bJ6nGAIXRd — Vikäs (@LaccaFirstTouch) October 25, 2018