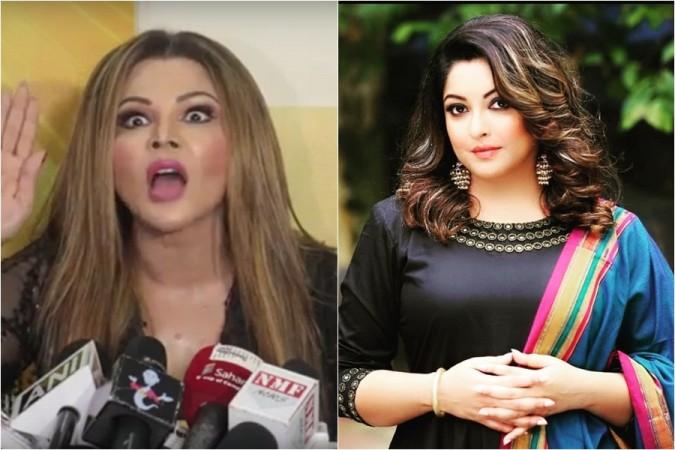 Rakhi Sawant, who is known for making scandalous statements, has now claimed that Tanushree Dutta is a lesbian and that she raped her.
While Rakhi and Tanushree have been having a legal fight over the latter's #MeToo allegations, the controversial diva came up with shocking claims in a press conference.
Dressed in a completely traditional avatar, Rakhi alleged that Tanushree raped her multiple times. She further said that the former Miss India is a "boy" from inside.
She said that Tanushree used to be her best friend 12 years back, and hence, she used to go along with her in various rave parties, where Tanushree used to consume drugs and make her consume that too. Rakhi alleged that Tanushree inappropriately touched her private parts. She further said that she has been getting death gang-rape threats.
She then said that there are many lesbians in the Bollywood industry but she took Tanushree's name only because the latter has filed a case against her.
Rakhi and Tanushree's war started after the latter accused Nana Patekar of sexually harassing her. Rakhi had rubbished the allegations and blamed Tanushree of falsely defaming a veteran actor. She had even claimed that Tanushree was a drug addict.
Later, Tanushree filed a Rs 10 crore defamation case against Rakhi, and in response, she filed a Rs 50 crore defamation case.
Ever since Tanushree came up with the serious charges on Nana, the #MeToo movement in India has picked up huge momentum. Several high profile celebrities, journalists and renowned personalities have been accused of sexual misconduct.