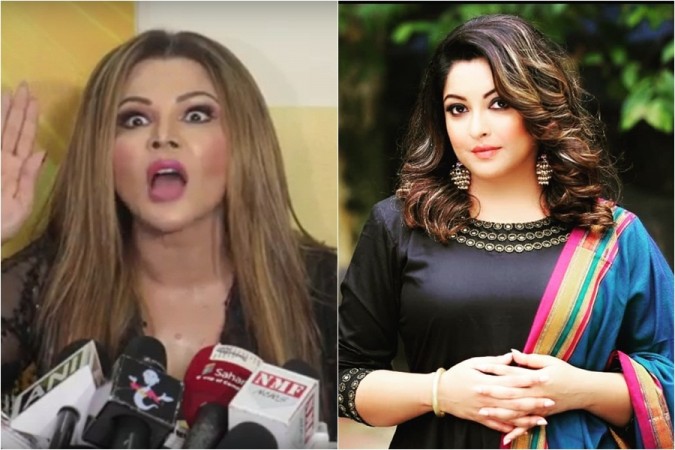 Tanushree Dutta's account of her alleged 2008 harassment incident at the hands of her Horn Ok Please co-actor Nana Patekar while shooting a song sequence has sent ripples across the Bollywood industry.
Tanushree said that being replaced by Rakhi Sawant was the biggest insult for her. And now Rakhi Sawant has thrashed Tanushree with her razor-sharp words while recalling the same incident.
Extending her support to Nana Patekar, choreographer Ganesh Acharya, producer Sami Siddiqui and director Rakesh Sarang, Rakhi Sawant has counter-accused Tanushree Dutta of passing out in her vanity van after taking drugs as she called her a big liar.
"This so-called Tanushree Dutta is a big liar. People accuse me of creating controversies and what is she doing now. I have seen everything. I was present on the sets and I will tell you the truth," Rakhi said.
"Do you think Tanushree is doing some kind of a job in the US? She was kicked out from there. She stayed at Bindu's house in New York. She daily used to do drugs over there and even passed on her awful habit to Bindu's daughter. Within a month, she was kicked out from the house. Tanushree's manager Bharat Goradia was literally begging everyone to give her work but nobody was offering her anything. Her manager had even begged people to let her stay at their homes. She was roaming there like an idiot," she claimed.
Biting Tanushree with her words, Rakhi asked Tanushree, "Were you in coma for the past ten years? You are lying that Nana touched you inappropriately while doing the song sequence. Tere shareer me hire lage hai kya? Jhutti kahiki (you liar). Even I did that song with Nana right but he didn't touch me. Instead I was only telling him that we were doing a song and I am comfortable with being touchy. Let me tell you that Nana's angry man image is for the screen. In real life, he's a very soft spoken person and respects everyone. And now after ten years, she is again creating a ruckus with her sensational statements and malign a respectable person's image. For what? Just to get some work and limelight? It was an item song. Do you want the other person to stand in Pakistan and dance with you? Of course there will a bit of touching but does that mean harassment? Nana has worked with so many heroines and nobody has ever complaint against him. And why there's a need for him to touch Tanushree in the first place."
Sharing her account of what happened on the sets that day, Rakhi told media, "I was resting at my home in the evening and suddenly I got a call from Ganesh Acharya that I have to do a song sequence. I asked him which song it was, he replied, "Why do you care, you have to this song. Come quickly." Even Nana Patekar called me and asked me to take up the song. I was shocked as there were no proper costume ready for me. I was unable to understand what had happened at that time but since I have done a lot of work with Acharya, I readily agreed. They didn't tell me anything that there was some situation on the sets. When I reach the venue, there were a lot of people around, a big van and a sea of reporters. I don't know what was happening over there. Maybe some people vandalised something. So when I asked Acharya, he told me that initially Tanushree was supposed to do the song (Nathni Utaro) and have shot some portion of it too. But they have been waiting outside her vanity van for hours asking her to come out and shoot but she was not ready to open the door at all. I know her and her stylist and make-up artist as well. So I thought maybe I should give it a try because she was not responding to either the producer or director's call. Daisy Shah, who was assisting Acharya at that time, made several attempts to bring Tanushree back on the sets as well but all in vain. So when I asked her stylist and make-up persons, then they told me that Tanushree was lying unconscious inside her vanity van for the past 3-4 hours. And I'll tell you why. She was unconscious because she did drugs. At that time, I was unable to understand why any artist would do such a thing. I knocked on the door as well but still there was no response from her.
"Nana Patekar and Ganesh Acharya told me at that time that you don't need to know about the controversy and you just have to do the song. Honestly, I didn't like the song at all. A huge set was erected over there for shooting the song sequence and because of the absence of Tanushree, the producer started crying. I was very confused what should I be doing because as per Cine And Tv Artistes Association (CINTAA), you are not allowed to continue the pending work of an existing artist on the sets."
"I was in a shock after watching the chaos on the sets. And when I replaced her, Tanushree sent a legal notice to me but thankfully the producer wrote to CINTAA that Rakhi was actually us and the matter was put to rest."
Watch the video here.