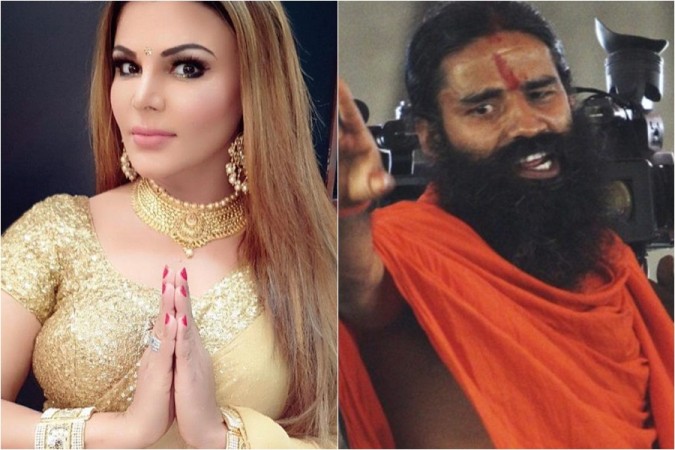 There's no stopping Rakhi Sawant. After levelling rape charges against Tanushree Dutta and introducing the concept of 'Godrej lock' to protect women from sexual abuse, the controversial actress has now urged Yoga guru Baba Ramdev to make 'vegetarian' bra and panties equipped with eye sensors to protect Indian women's dignity.
"I request Baba Ramdev to make vegetarian bra and panties for women in India which will be equipped with an eye sensor that will scan a man's (specifically a woman's boyfriend or husband) retina to open it as per his convenience," Rakhi Sawant told Bollywood Hungama while mentioning about her infamous lock video about women safety on Instagram.
After her sensational claims against Tanushree Dutta saying that she was a lesbian and raped her 12 years ago, Rakhi was brutally trolled for making insensitive comments about a serious issue like #MeToo movement in India and trivialising the movement. However, Rakhi has remained unfaced with the criticism and said that she stands firm on her statements against the Aashiq Banaya Aapne actress.
At one point, she tried to shed tears while explaining her claims and asked, "Who will marry me after getting to know that I was raped multiple times by Tanushree. Will any man accept me as his wife?"
She even went on to say that she is ready for police or CBI or any other form of investigation to find out the truth. While many people called her a liar and making claims just for the sake of publicity and gaining media attention, Rakhi said that she doesn't need to do all the drama to stay in the limelight. She further added that she is capable enough to feed herself and her family by doing item numbers and wearing short clothes in her films.
She even claimed that she hasn't had sex in the past 2-3 years and has taken a spiritual path in life.
Watch the video here:
Meanwhile, Tanushree Dutta has reacted to Rakhi Sawant's claims of sexual harassment.
"For those uninitiated in the art of guerrilla war tactics: Smear campaigns never run fair or square. So just to set the record straight: I'm not a drug addict, I don't smoke or drink and I am most definitely not a Lesbian. In fact, I'm too much of a woman for this patriarchal and misogynistic cesspool to handle. Hence the perverted character assassination attempts to shut me up!! It's clearly not working. Let's not make a joke of such a serious movement that can potentially bring positive changes of mindset in our society," Tanushree had said in a statement.