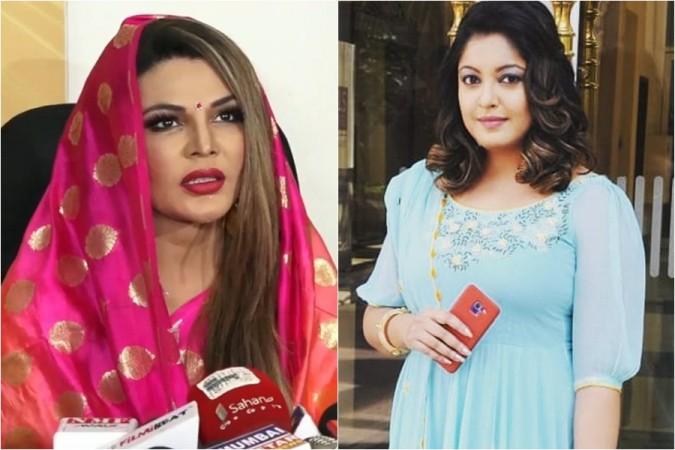 Bollywood actress Tanushree Dutta has finally reacted to actress and item girl Rakhi Sawant's allegations of sexual harassment at rave parties that the two allegedly attended together in Mumbai. The Me Too movement in India gained momentum at the end of September 2018, when Tanushree Dutta spoke up again about her 10-year-old case where actor Nana Patekar allegedly harassed her on the sets of the film Horn Ok Pleassss.
Rakhi Sawant has not been supportive of Tanushree Dutta's claims of sexual harassment by actor Nana Patekar. To dilute the seriousness of the claim further, Rakhi Sawant alleged that Tanushree Dutta is a lesbian and has "raped her" multiple times.
Saying that Tanushree Dutta used to be her friend at one point in time, Rakhi Sawant also claimed that the former beauty pagaent winner consumes drugs and is out of work. Silent for the past few days, Tanushree Dutta has finally reacted to these claims in the form of a statement.
The Times of India has shared Tanushree Dutta's statement on the issue. Read it here:
"For those uninitiated in the art of guerrilla war tactics: Smear campaigns never run fair or square. So just to set the record straight: I'm not a drug addict, I don't smoke or drink and I am most definitely not a Lesbian. In fact, I'm too much of a woman for this patriarchal and misogynistic cesspool to handle. Hence the perverted character assasination attempts to shut me up!! It's clearly not working. Lets not make a jokery of such a serious movement that can potentially bring positive changes of mindset in our society."
Tanushree has also filed a police complaint against Rakhi Sawant. While she earlier claimed to have filed a Rs 10 crore defamation suit against Rakhi after her first comments denying any such thing took place on the sets of Horn OK Pleassss, the latter said she will file a Rs 50 crore defamation case against Tanushree.
"She has filed a Defamation case against me for 10 crores I will file one for 50 crores. I will file a 50 crore defamation case against Tanushree for calling me a lower class girl. The original purpose of #MeToo is not being fulfilled. It is not going in the right direction and various girls are coming and taking advantage of the movement and the women that have not gone through anything are also coming and accusing innocent men. I feel bad for those women who have actually suffered sexual harassment and they won't be heard out because of the girls who are lying," said Rakhi Sawant.
Tanushree Dutta has lodged a fresh first information report (FIR) against actor Nana Patekar, Horn OK Pleassss director Rakesh Sarang, producer Samee Siddiqui and choreographer Ganesh Acharya, as in 2008 no FIR had been registered for sexual harassment.
The Mumbai police has recorded the statement of Sudhir Pandey. He was the member of the Cine and TV Artistes' Association (CINTAA) who had looked into Tanushree's complaint against Nana Patekar, Ganesh Acharya and Rakesh Sarang in 2008.