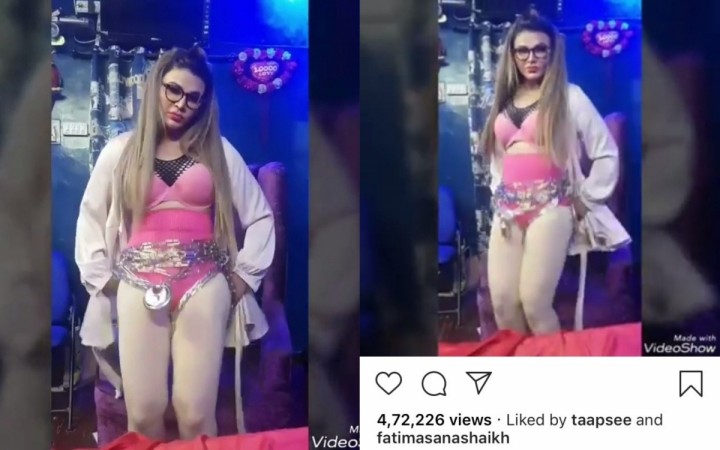 After accusing Bollywood actress Tanushree Dutta of "being a lesbian" and "raping her", Rakhi Sawant posted another one of her disgusting videos on social media. This video shows the height of Rakhi Sawant's quirkiness, as she presents a 'lock' for women's safety to be worn on panties or underwear!
Rakhi Sawant invited the ire of netizens and everybody in general when she made a mockery of the Me Too movement in India. At a press conference recently, Rakhi Sawant alleged that actress Tanushree Dutta, who has accused actor Nana Patekar of sexual harassment, herself "raped" Rakhi at one of the rave parties the two attended.
Claiming that Tanushree was once her best friend, Rakhi Sawant called her names saying she is a drug addict and a lesbian, a man from the inside who sexually harassed her on multiple occasions. Rakhi also said that Me Too is an American concept.
Just when we were getting over her latest drama and seeminly false accusations, Rakhi Sawant posted this video where she wears a chain and lock on pink underwear. She suggest women should wear it in order to avoid rape, calling herself 'Scientist Rakhi'.
Rakhi Sawant spoils it further by gyrating and making pelvic thrusts, with the lock tied to her undergarments. It is not something one would want to ever see. If you must, take a look here. Surprisingly, this video has been 'liked' by Bollywood actresses Taapsee Pannu and Fatima Sana Shaikh on Instagram.
We feel Rakhi Sawant has crossed all limits of decency with this video. She has also been opposing Tanushree Dutta right from the time she opened up about her sexual harassment on the sets of the movie Horn Ok Pleasss in 2008. Interestingly, it is Rakhi Sawant who had replaced Tanushree Dutta in the item song of the movie.
While Tanushree Dutta filed a Rs 10 crore defamation case against Rakhi Sawant, the latter said she will file a Rs 50 crore defamation case against the former beauty pageant winner.
In September 2018, Rakhi Sawant had posted a 'potty video' where she was sitting in her toilet.