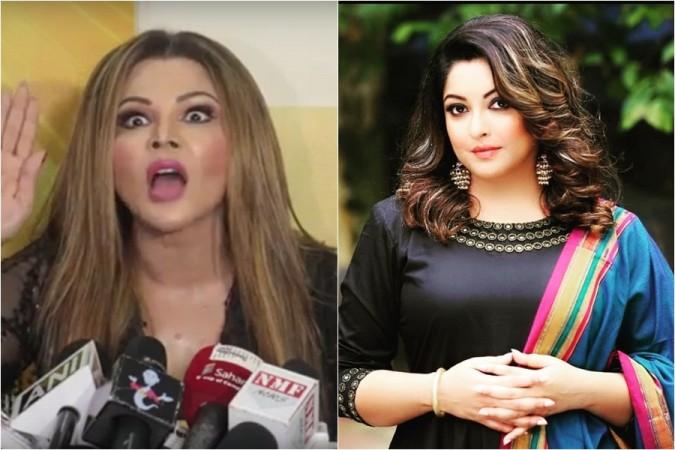 Rakhi Sawant, who had accused Tanushree Dutta of making a "false #MeToo accusation" on Nana Patekar, apologised to her through two Instagram videos. The apology came in response to Tanushree's open letter where she stated that she lost faith in Jesus, and she would not step inside a church ever again until Rakhi apologises to her.
In the videos, Rakhi said that Tanushree should not have brought God in between their fight. She added that her belief in God is very firm, and she would not want Tanushree to lose her faith either. Hence, she is apologising to her and also appealed not to say anything defamatory about Bollywood in future and end the fight.
"Here I apologies to you @iamtanushreeduttaofficial Just a request dont bring God between us. He is here for all of us. I dont think I'll become small. I just want to spread love. love to you. [sic]," she captioned the post.
Tanushree had recently released a statement saying she lost faith in Jesus after a priest visited Rakhi and prayed for her speedy recovery from the injuries that were caused to her recently by a female wrestler.
"I believed God loved me and I believed Jesus loved me. Today I see a liar like Rakhi Sawant being prayed for by priests after her injury. Couldn't they also reprimand her for bearing false testimony?? Is this what they teach you in church?? To say horrible things about someone just because you don't agree to what they stand for, to attack people?? To speak shit about ppl for your own gains?? To lie blatantly? I hear her talk about her Christian faith. And I along with the whole country heard her mouth vile, vicious, damming lies about me in full public display without any remorse or fear of God. She wanted to silence me from the #metoo while getting some mileage and providing laugh worthy entertainment. She could not achieve my silence but she has achieved what I thought was unachievable - to break my faith in Jesus," Tanushree had said in the statement. Read full statement here.
Rakhi and Tanushree's war had started after the latter had accused Nana Patekar and Vivek Agnihotri of sexual harassment. Rakhi had slammed her for allegedly defaming industry people, and in turn, Tanushree had lambasted her too.