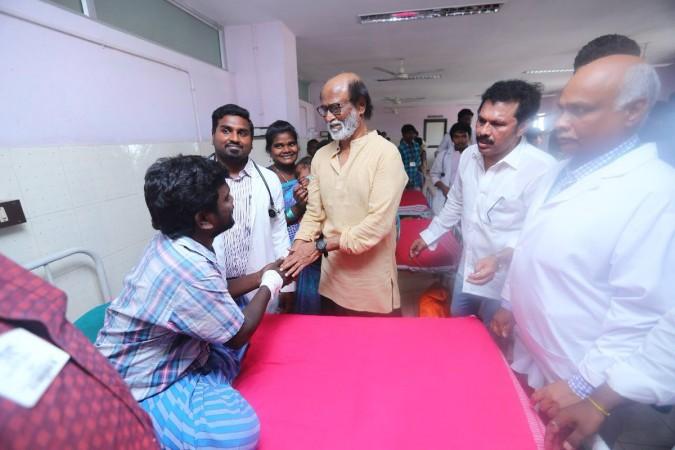 Rajinikanth was caught in an embarrassing situation when he visited Tuticorin recently to meet the victims of police firing. An injured protestor named Santhosh asked the superstar "who are you?" after the actor went to inquire about his health.
The superstar replied with a smile, "Naa paa Rajinikanth (I am Rajinikanth)," The youth did not stop there as he retorted with, "Where were you all these 100 days when they held protests?" The onlookers calmed down the boy.
Soon the superstar was trolled over it. The critics of Rajinikanth declared that his trip to Tuticorin turned out to be a "self-inflicted blow" for his political career as his comments had hurt the Sterlite protestors.
Now, Santhosh has come out with a video to state that he regrets making those comments. "Rajinikanth, like everybody knows, is a superstar. People show respect towards politician when in power, but Rajinikanth does not need to earn respect by being in power; the mention of his name itself make people to respect him. public and respect on Rajini are very big; more than a politician in power!,"
"He is known for caring his people. As he had not turned up for 100 days during our protests to show his solidarity, I thought I have the right to ask him the question. It is a sensitive matter which has affected me. But media people twisted the story to create a controversy," he claimed.
It has to be noted that Santhosh had asked the same question to Minister Kadambur Raju, but had shown respect towards Sarath Kumar as he had met the protestors earlier and consumed the contaminated water to show his solidarity towards the protest.