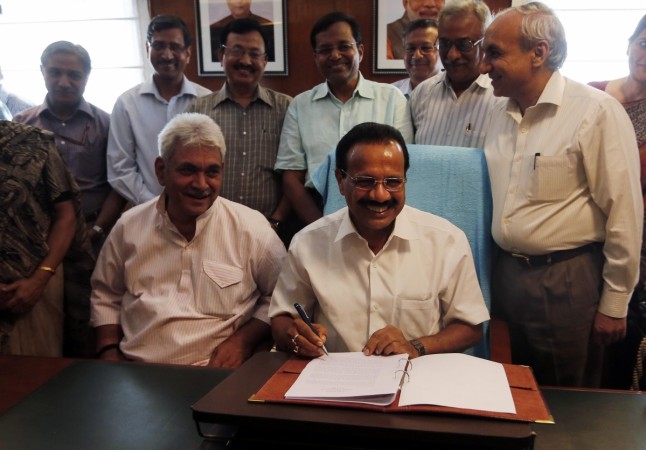 3:00 pm: Protests break out outside Railway Minsiter's house in opposition to the budget
However, Opposition members severaly criticized the Railway Budget. While Rahul Gandhi said it was not pro-poor, Veerappa Moily said it lacked national vision.
1:30 pm: Prime Minister Narednra Modi called the budget a "Modern Railway Budget", and said it is the growth engine of a modern India.
1:10 pm: Opposition creates ruckus in Parliament as Gowda announces new trains, Railway Budget presentation ends
1:00 pm: North Eastern region to get 54 percent more funding, Bengaluru to get suburban rails.
12:55 pm: Gowda promises railway stations of international standards under PPP model, modernized logistic operations, bio-fuel in locomotives, harnessing of solar energy. Gowda says express trains have become passanger trains due to high number of stoppages.
12: 47 pm: "Will set up a Railway University for technical and non-technical subjects"
12:45 pm: Gowda announces Rs 100 crore for a high-speed rail network. Says train speed in nine select sectors will be increased to 160-200 kilometers, wi-fi facilities will be made available at A-1 category stations
12: 43 pm: "It is the dream of every Indian that India runs a bullet train. I announce a bullet train for the Mumbai-Ahmedabad line."
12: 37 pm: Gowda to bring in technology in Railways; promises expanding scope of online booking, facilitating ticket booking through mobile phones, bring in automated closing doors
12: 35 pm: Gowda promises safety for women passengers, says 4,000 women RPF constables will be deployed, RPF escorting teams will be given mobile phones for passengers to contact them in distress
12:30 pm: "We are proposing passeneger services at railway stations. We have proposed escalators, lifts, water services, CCTV cameras and battery-operated cars at stations. We will involve NGOs and trusts to provide passanger services."
12:20 pm: "We are faced with the dilemma of choosing between commercial viability and social viability. We are seeking cabinet approval to allow FDI in Railways, except in Railway Operations."
12:18 pm: "In the last 30 years, 676 rail projects have been sanctioned, but 359 projects still remain to be implemented, which will cost ₹1,82,000 crore. Four projects are as old as 30 years."
12:13 pm: But vast regions of hinterland are still waiting for railway connectivity. Indian railways carries only 31 percent of the total freight in the country. These are the challeneges.
12:10 pm: "Indian railways has 12,500 trains every day across 7,000 stations, carrying 23 million passengers. It is equivalent to moving the entire population of Australia every day. Railways is the driver of Indian Economy," says Gowda.
12:00 pm: Gowda presents Railway Budget. "Indian Railways cuts across all barriers, classes, religions and creed. I am flooded with requests for new trains, new railway lines."
11:00 am: Gowda leaves for Parliament from Rail Bhawan. Railway Budget to be presented at noon.
10: 50 am: Congress demands a discussion on price rise after rail budget, threatents to disrupt Budget Session if not allowed to discuss. The first day of the Budget Session on Monday was unruly with the Lok Sabha being adjounred twice before being adjourned for the day.
10: 44 am: Former Railway Minister Dinesh Trivedi says there must be a national policy on Railways for the next 10-15 years.
The Modi government is set to present its first Railway Budget today in the Parliament, which is expected to pave the way for high-speed trains and private sector investment.
Before the Budget Session began on Tuesday, Railway Minister Sadananda Gowda in an interview with Doordarshan said that the Railway Budget would be "people-friendly", promising more amenities to passengers.
Gowda was also quoted saying that the government would bring in bullet trains soon, and that the Railways will be modernized to use technology and social media. "We have made Twitter and Facebook accounts for railways to make it more interactive," he said.
He also tweeted -
Going to present my maiden budget as a @RailMinIndia minister today. Hope we are able to meet public expectations.

— Sadananda Gowda (@DVSBJP) July 8, 2014
Even a few hours before the Budget, expectations were high that the government will bring in semi-high speed trains on select routes immediately.
Finance Minister Arun Jaitley had on Monday defended the government's decision to hike passenger rail fares by 14.2 percent, stating that the NDA government was facing a shortage of₹30,000 crore loss on passanger fares. "For any public utility to run, the users must pay," he said.