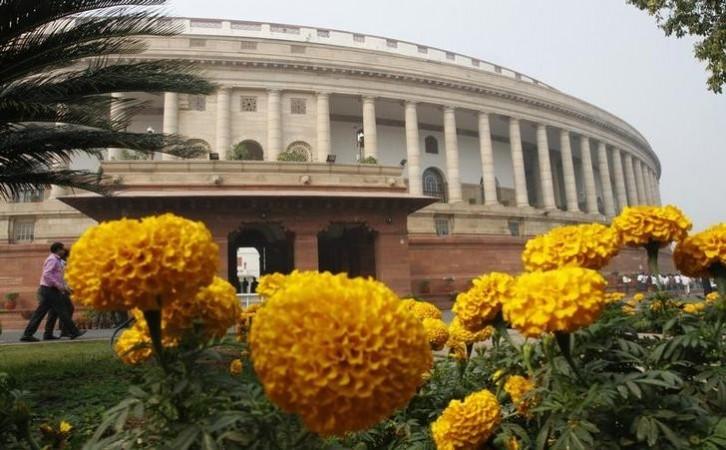 5:04 pm: Rajya Sabha unaninomously passed a bill on the National Institute of Design on the first day of the Budget Session.
4:00 pm: Members of Congress and Bahujan Samaj Party stage a walkout in Rajya Sabha in protest of Jaitley's statement on price rise and rail fare hike. TMC leader Derek O'Brien had walked out earlier.
3:30 pm: Finance Minister Arun Jaitley says that price rise is because of poor supply.
3:20 pm: Jaitley speaks in Rajya Sabha, says that the government is ready to debate on price rise, lambasts UPA government for not taking strong decisions. Blames Congress for leaving railways in a poor condition; defends rail fare hike. Jaitley says the NDA government inherited the Railways from the UPA with ₹30,000 crore loss.
2:10 pm: The first day of the Budget Session came to a standstill with the Lok Sabha being adjourned for the day amid protests over price rise both inside and outside the Parliament. According to news channels, the parties did not agree to debate on the price rise without a vote.
12:45 pm: NCP leader Praful Patel asks the Modi government to clarify its stand on the new poverty definition, following the report by the Rangarajan panel that pushed poverty line to ₹32 per day in rural areas and ₹47 in urban areas.
12:10 pm: Budget session in Lok Sabha adjourned again till 2 pm.
12:06 pm: Speaker Sumitra Mahajan says she will not allow adjournment motion over price rise, pushes for debate.
12:05 pm: JD (U) leader Sharad Yadav attacks Modi government over price rise.
12:00 pm: Speaker congratulates the Indian Space Research Organisation for its recent space mission, congratulates sports persons including badminton player Saina Nehwal and snooker player Pankaj Advani.
11:45 am: While Lok Sabha is adjourned, Congress attacks Modi government for price rise, rail fare hike in Rajya Sabha. Congress leader Ghulam Nabi Azad, Trinamool Congress Leader Derek O'Brian oppose rail fare hike.
11:30 am: The chaos over price rise continued in the first hour of the Budget session with members also storming into the well of the Parliament. The Budget Session is adjourned till noon.
11:15 am: Ruckus ensues in Lok Sabha over the issue of price rise. Even as Petroleum Minister Dharmendra Pradhan assured that farmers would get befenifts from ethanol blending, there was shouting and chaos in the House.
First question of the question hour - Ethanol Blending in Petrol
11:00 am: The Budget Session begins in Parliament.
10:45 am: Home Minister Rajnath Singh, Parliamentary Affairs Minister Venkaiah Naidu, Finance Minister Arun Jaitley and External Affairs Minister Sushma Swaraj meet Modi in Parliament.
10:35 am: Opposition demands debate on price rise on Day 1 of Budget Session
10:30 am : Even before the Budget Session begins, the ruling Bharatiya Janata Party and the Indian National Congress are sparring over the issue of Leader of Opposition. The BJP is reported to have called the Congress "power hungry". However, Naidu was reported saying that the issue of LoP was not discussed in the all-party meet.
10:10 am: All party meet ends.
9:35 am: Prime Minister Narendra Modi reaches Parliament House to attend his first Budget Session.
9:15 am: Parliamentary Affairs Minister Venkaiah Naidu convenes all-party meeting ahead of the first day of the Budget Session on Monday.
The Narendra Modi government that took office on 26 May begins its first Budget Session on Monday, where issues of price rise and rail fare hike are likely to be discussed. The session begins in light of high inflation, fiscal deficit and rising fuel prices.
The government will present its Railway Budget on Tuesday, followed by the Economic Survey on Wednesday, and the much-awaited Union Budget on Thursday.