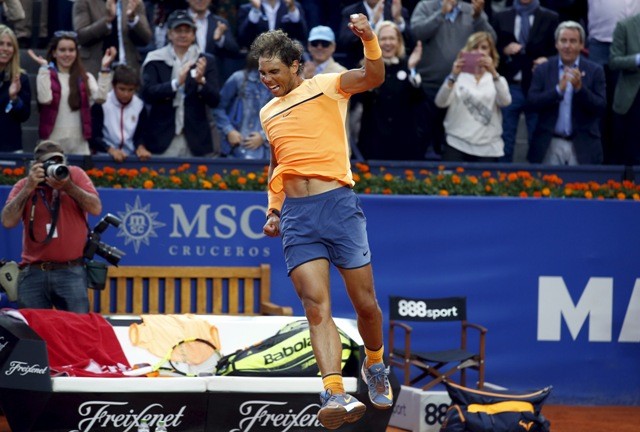 Rafael Nadal filed a lawsuit against former French government official Roselyne Bachelot on Monday for her allegations that the tennis star had failed a drugs test in 2012. The "King of Clay" won the Barcelona Open title just a day before, clinching his 49th title on a clay court in the process.
"I hereby make public the defamation lawsuit against Roselyne Bachelot, that I have filed today April 25th 2016 before the Paris law courts, [sic]" Nadal was quoted by the Guardian as saying in a statement. "This legal proceeding was instigated after Bachelot made offensive remarks last March on Le Grand 8 programme of French channel D8. In charge of the case is Maître Patrick Maisonneuve, lawyer at the Paris bar.
"Through this case, I intend not only to defend my integrity and my image as an athlete but also the values I have defended all my career. I also wish to avoid any public figure from making insulting or false allegations against an athlete using the media, without any evidence or foundation and to go unpunished.
"Should the tribunal consider there has been a wrong-doing and the sentence recognises the right to damages, any compensation will be paid back in full to an NGO or foundation in France.
"On the other hand, I ask for total respect regarding the legal procedure just started and would like to express my complete trust in the French justice system who will be judging the legal case. I will not be making any further statement," said the 14-time Grand Slam winner.
The Spaniard had said he was absent from the court for seven months in 2012 due to a niggling injury in his left knee. Nadal had been handed a second-round exit from Wimbledon 2012 by Lukas Rosol. Bachelot, however, claimed last month that the tennis veteran's absence from the court was due to a failed drug test.
Nadal, who had won the French Open that year but missed out on the US Open 2012 and the Australian Open 2013, had revealed last month that he intended to sue to government official for her comments.
Bachelot also claimed Maria Sharapova, who revealed testing positive for a banned substance earlier this year, is not the only one who has doped in tennis, and that there are several others. She also said there was major cover-up in 2012 to prevent the news of Nadal's doping from going public.
Bachelot was the French minister for health and sports until Nov. 14, 2010, in the Nicolas Sarkozy government.