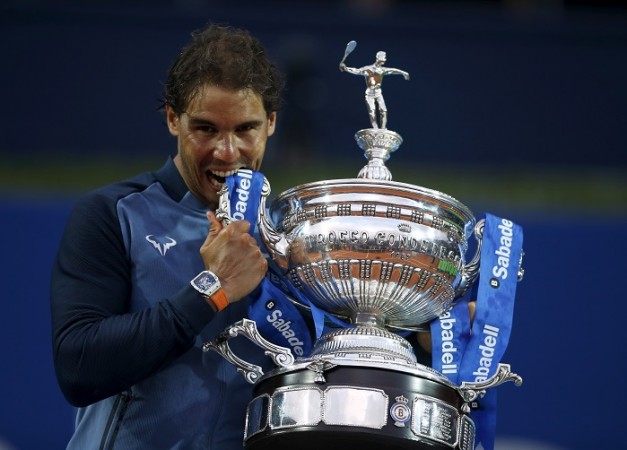 If there was any doubt that Rafael Nadal is not the greatest clay-court player of all-time, the Spaniard banished all reservations by clinching the Barcelona Open title. Following up a win in Monte Carlo, the Spaniard topped Kei Nishikori in the final to win his ninth title in Barcelona.
The Barcelona Open victory, courtesy a 6-4, 7-5 win in the final over Nishikori, was Nadal's 49th title on a clay court, with that win taking the Spaniard level with Guillermo Vilas on the all-time clay court titles list.
"It was a very close match," Nadal told ATP's official website. "There were a lot of chances for both of us but I think I have been solid. When you play against players with such a high level, the match is often decided by a few moments. So I feel happy that I handled all these important moments well mentally."
After a couple of barren years, where Nadal has struggled for fitness and form, the Spaniard will be desperate to find his clay court touch again. Having relinquished his hold on the French Open, a title he has won nine times, much like the one at Barcelona, Nadal is showing signs of returning back to his best.
The Spaniard clinched the Monte Carlo title last week and he has now backed that up with the win in Barcelona.
"I have been working so hard to enjoy moments like this," Nadal said. "The fact that I'm playing at home is always even more special. I'm very happy and I feel lucky to enjoy this again."
Nadal, who is the only man to win a tournament nine times in the Open era – he has nine French Open titles, nine Monte Carlo titles and nine Barcelona Open titles – will now bid to stay healthy and on point as the French Open approaches next month.
Nadal's biggest challenger for the title will again be Novak Djokovic, who knocked the Spaniard out last year, and while the Serbian looks near unbeatable at the moment, if the 29-year-old continues in the same vein, another title at Roland Garros might just come his way.