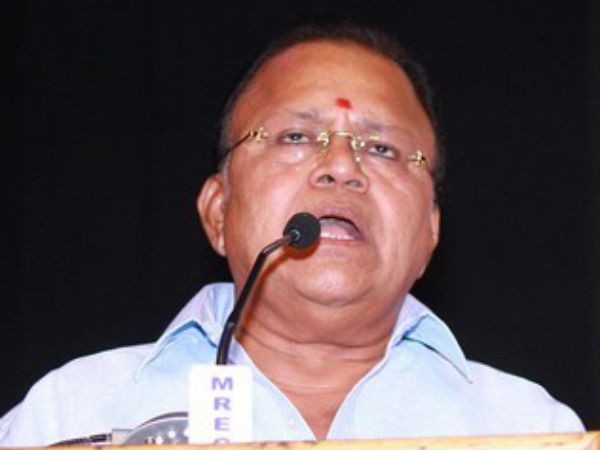 Radha Ravi, who is facing the sexual harassment allegation by an anonymous woman, has mocked the 'Me Too' movement.
Speaking at the audio launch of upcoming Tamil movie Avadhara Vettai, Radha Ravi reacted to the ongoing controversy by stating that these days accusing people is a common sight. "If a director enters heroine's room without permission, his career is over. We cannot ask the heroines to do make-up in streets," he said.
He says that in the earlier days the coordination among the filmmakers, technicians and artistes were good and the experience of working in a movie was memorable. "Today, director hesitate to give a narration fearing that they might face harassment charges tomorrow," he added.
Radha Ravi hailed SIddharth for his views on the issue while welcoming Vishal's comments that the victims should have registered complaints when it happened.
"We cannot go back 10 years and see 'everything' as it is. When I said 'everything' it means the surrounding, venue, location and other factors," Radha Ravi further said, while declaring that 'Me Too' is for godmen and ministers.
Several women from the country have come forward to reveal the name of sexual predators, who misbehaved with them in the past. The 'Me Too' campaign has helped women reveal names of sexual abusers.
Last week, an anonymous woman on Twitter alleged that Radha Ravi invited her to his office and "hugged" and "kissed" on her face. He had asked her to meet him in person without bringing her friends.
"Looking at the Vairamuthu incident was a shocker. Because the same, EX-ACTLY the same happened to me with Mr. Radha Ravi, when I approached him for something official. Got invited to his home/office at Alwarpet, got hugged and kissed on the face. Was told "finish this work nallaa and come, we'll meet again. Neeyum nallaa dhaan irukka. Don't come with your friends, come alone". Never got that official work done though. Gave up on it. He has the same political power and other powers in the industry. Nothing can be done than exposing on social media. [sic]" she posted.