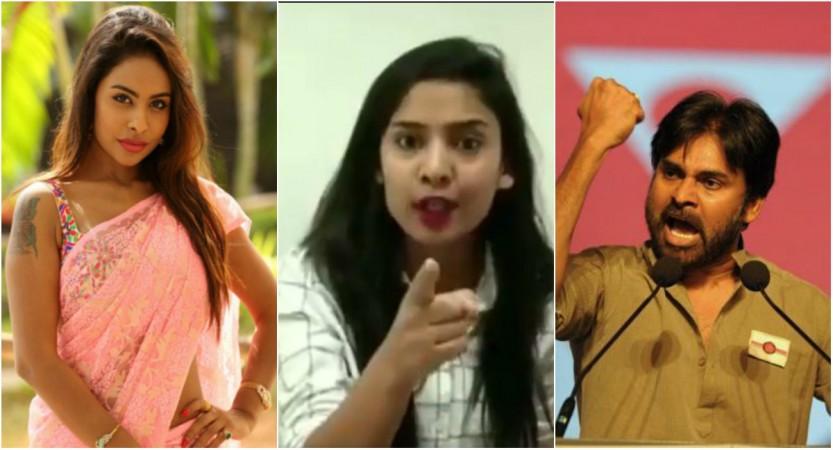 Actress Radha Bangaru, who had supported Sri Reddy in her protest against the casting couch, has come down heavily upon the actress for using abusive language against power star Pawan Kalyan.
Sri Reddy had recently abused and insulted Pawan Kalyan for giving her advice on how to fight against casting couch. Her filthy language hurt many of his fans and celebs from the Telugu film industry. In fact, some people, who had earlier supported her fight, have now criticized her over the remarks.
Radha Bangaru is one of the female artistes who supported Sri Reddy. Bangaru was, however, furious over her comments on Pawan Kalyan. In a video message, she warned Sri Reddy against using foul language against the power star, who has won million hearts with his work. Bangaru also requested the media to stop encouraging such acts for publicity.
Here is Radha Bangaru's complete statement featured in the video:
"Stop it! Abusing a person, who is senior most and has won many hearts with his hard work. You can't just use that word for him. Mind your language. What is this? What do you think of speaking in front of camera? What the hell is this? I am sorry to talk like this. The way you are talking, everybody is in aggression. Somebody has supported you and you have done a stupid thing. You lost the chance also."
"You say something and later say sorry for it. Even I will slap you and say sorry. Is it Ok? Do I do that? I have all the rights and all the artistes have the rights to file a case against you. We will do that, if we go out of our mind. Mind it. Never again we want this shit. We never again want to hear this abusive language on TV channel. There are so many things happening around the world.
"I just wanted to tell you, mind your language. Don't just go on talking. Don't talk just thinking that you are getting publicity, viewership or money. You fight it out single handedly. You have court and police station. If media is supporting, how can you criticise Pawan Kalyan?"
"I request all the media houses not to encourage this stuff just for publicity or something else. She wasn't even known to anyone. Nobody knew who Sri Reddy was. Today, everyone knows her because of this publicity. You all are encouraging. Please don't do that."
Radha Bangaru had recently appeared on a TV channel last weekend to express her support to Sri Reddy in her fight against sexual exploitation. The actress, who has been in the film industry for the last six years, admitted that the casting couch does exist in Tollywood.